Live updates: Health Secretary Matt Hancock to lead Downing Street conference after Dominic Cummings attack
Health Secretary Matt Hancock will hold a Downing Street press conference today, just a day after former Prime Ministerial advisor Dominic Cummings said he should have been sacked.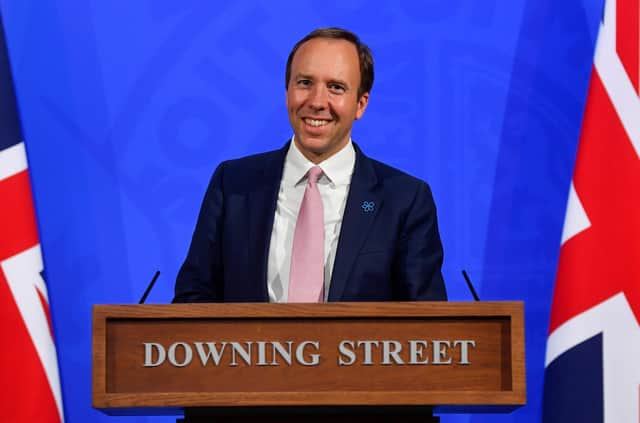 During a seven-hour evidence session to MPs yesterday, Wednesday, May 26, Mr Cummings said Boris Johnson was 'unfit' to lead and his Government's failures had led to tens of thousands of unnecessary deaths.
Apart from the PM, he saved his fiercest criticism for Mr Hancock over failings around care homes policy, personal protective equipment (PPE) procurement and his public pledge on a testing target which caused disruption in Whitehall.
Mr Hancock has said the 'unsubstantiated' attacks are 'not true'.
Matt Hancock faces questions after scathing attack by former Downing Street advisor Dominic Cummings
Key Events
Show new updates
Mr Hancock is asked why Manchester and Trafford's health and social care system started testing all care home residents before discharge in the middle of March 2020 but this did not become national policy for another month.
He replies: "Unfortunately we didn't have the testing capacity to put that policy in place across the whole country.
"It would have been wonderful if we'd started this pandemic with a very large testing capacity. We didn't. We had to build one.
"Then, once we'd built one, we were able to put that policy in place nationwide."
Deputy Chief Medical Officer for England Dr Jenny Harries says she agrees with Professor Neil Ferguson, from Imperial College London, who said the full reopening of society on June 21 "hangs in the balance".
"On the road map, I absolutely agree with Professor Neil Ferguson. The road map works on four principles to go forward, so it's on the cases, hospitalisations, the effectiveness of the vaccine programme and then new variants," she says.
"So, in many ways we're looking at the first part and the last part.
"If you just look at the pure data which is out today it looks quite worrying. We had 3,535 cases of the 617.2 last week, and we have just about double that, 6,959, now."
She points out that they expect cases to rise as they are actively going out to find cases.
"We also expected some cases to rise as we gradually start to socialise," she says.
Mr Hancock says that of the 49 people in hospital with coronavirus in Bolton, only five had had both doses of vaccine: "Of the 49 people who are in hospital with Covid in Bolton, only five have had both vaccine doses.
"So when you get the call, get the jab, and make sure you come forward for your second doses so you can get the maximum possible protection.
"The vaccine is severing the link between cases and hospitalisations and deaths from coronavirus."
Asked if he has spoken to the Prime Minister about Dominic Cummings' evidence to MPs and if Boris Johnson has personally given him his reassurance that he has confidence in him as Health Secretary, he replies: "The Prime Minister and I talk all the time and we're working incredibly hard on getting this vaccine rollout as broad as possible, making sure people get their second doses, and obviously very vigilant particularly to the areas of the country where cases are starting to rise as I've set out.
"That's what we focus on, because that is what really matters to getting this country out of this pandemic.
"I mean, you know, this isn't over yet. And in a way the rise in case rates in the last couple of days demonstrate that.
"We've all got to be vigilant, and we've still, all of us, got to take personal responsibility for what we can do to help keep this under control as we get the vaccine rolled out.
"It is a race between the two and that's what we're focused on."
Mr Hancock is asked if he can say it is true he protected care homes from the start, and if he told Downing Street that people leaving hospital would be tested before they returned to care homes.
He replies: "We worked as hard as we could to protect people who live in care homes, and of course those who live in care homes are some of the most vulnerable to this disease because by its nature it attacks and has more of an impact on older people.
"Now when it comes to the testing of people as they left hospital and went into care homes, we committed to building the testing capacity to allow that to happen.
"Of course it then takes time to build testing capacity.
"In fact, one of the critical things we did was set the 100,000 target back then to make sure we built that testing capacity and it was very effective in doing so.
"And then we were able to introduce the policy of testing everybody before going into care homes, but we could only do that once we had the testing capacity which I had to build, because we didn't have it in this country from the start.
"We started with a capacity of less than 2,000 in March last year and got to 100,000 tests a day.
"And we set all of this out at the time in public documents. It's all a matter of public record."
He says Govt has set out the rules and there is a testing regime in place at the border.
More stringent rules are in place for amber and red list countries.
"We do want to make sure there is a route to safe international travel in the future," he says but at the moment it is still the traffic light system that guides policy
A total of 6,959 cases of the Indian variant of coronavirus have now been confirmed in the UK, Public Health England has said.
The figures are up to May 26, and represent a rise of 3,535 on the previous week.
In England 6,180 cases have now been confirmed, along with 702 in Scotland, 58 in Wales and 19 in Northern Irelan
It has the potential to transform lives globally and it is 'brilliant' to see British research leading the way.
PM has set goal of having two new anti-viral drugs available later this year to help prevent virus spreading.
He urges everyone to get their second dose and says the vaccine is severing the link between cases and hospital: "Having three in four adults with antibodies is important but there is more to do.
"The case for getting the jab has never been stronger."
Rapid vaccine roll-out means vaccination has now been opened to everyone aged 30 and over.
Matt Hancock says up to three quarters of new cases are of the new Indian variant.
The critical thing is the link from cases to numbers in hospital.
Outbreaks remain concentrated in hotspots.
Chancellor of the Duchy of Lancaster Michael Gove has said there are differences between the UK and Scottish governments on recognising Covid status but that he hoped it would not stand in the way of Scotland fans attending the match against England at Wembley this summer.
Mr Gove told MPs on the Public Administration and Constitutional Affairs Committee: "The Scottish Government does believe in the potential for domestic certification to play a role but they take a slightly different approach to the potential delivery of it.
"In the meantime, we have an agreed approach towards recognising, or working towards an agreed approach towards recognising, a paper-based recognition of vaccination and testing because, of course, one of the big events coming up is the Scotland-England match in the Euros at Wembley and we want to make sure that there are, in every sense of the word, a healthy contingent of Scottish fans at Wembley for that match."