Shining Stars award recognises charity's efforts during pandemic
A team effort to help cancer patients through lockdowns has been championed with an award win.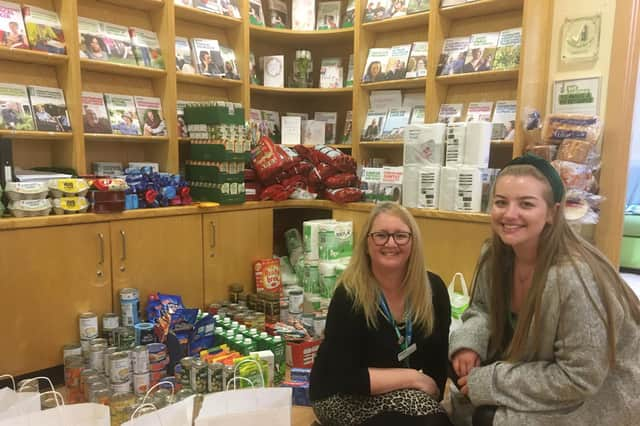 Louise McMahon and Jessica Rainbow with items collected for patients during the pandemic.
The 'Rise Above Cancer Team' at South Tyneside and Sunderland NHS Foundation Trust has been given a highly commended award by Sunderland Shining Stars after a nomination
by Ruth Dawson from the council's welfare rights service.
It follows the Macmillan project's work during the COVID-19 crisis as it continued to offer benefits advice and checked people were coping as many cancer patients were shielded and isolated. More than £6,260 in donations flooded into the team at Sunderland Roy- al Hospital, with food par- cels delivered to 350-plus patients in hospital, while items were gifted by Trust staff, community and businesses including Morrisons and Washington shopkeeper Bob Singh.
Deb Spraggon, then Macmillan Operations Manager and now a Personalised Care Manager, and Julie Henderson, Assistant Macmillan Support Manager, co-ordinated efforts as they both too were shielded.
Assistant support manager Louise McMahon worked with volunteers Sharon Smith, on furlough from Cancer Research UK, and Jessica Rainbow, who has since started a medical degree at the University of Sunderland, to stock people's cupboards.
They were backed by hospital porters, with thanks sent to Mark Turner for his team's help, while volunteers with their own vulnerabilities offered messages of encouragement. Louise said: "It was lovely to find out we were nominated and nice to get recognition for what we do.
"Sharon and Jessica were a fantastic help, but we would also like to acknowledge our whole volunteering team, because for all they couldn't physically help us, they were cheering us on and supporting us all the way – we really couldn't do what we do without them."
The Macmillcan Cancer Supoport Centre, on B Floor, Sunderland Royal Hospital, is open Monday to Friday 10am to 4pm and can be called on (0191) 541 0122.
Its sister service at South Tyneside Hospital, in the outpatients department, is open 10am to 4pm, Monday to Thursday, and is on (0191) 202 4167.