LIFE IS LOVELY: There is nothing quite like watching your children bond with each other
Watching your children bond with each really does fill your heart with so much love.
When I was pregnant with Layla I was always worried about how Elijah would take to another child being in the house and adapting to being a big brother.
It is a big adjustment for any child when a baby brother or sister comes along when the focus has always been on them and because they are so young they don't necessarily understand that this little baby is part of their lives now.
When we first brought Layla home Elijah showed no interest in her as if she didn't exist to him and immediately I thought what if he doesn't adjust to her?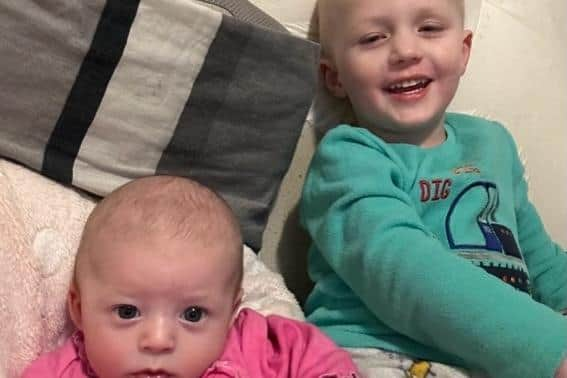 Like I say it's a big adjustment but now four months down the line I am starting to notice a bond between the pair which is lovely to see.
Usually the role of a big brother is to look after his little brother or sister and now the pair are bonding I can see Elijah being Layla's protector as they grow up together.
Being a big brother has brought out his caring side as soon as Layla cries he's quick to tell me she isn't happy or she needs a bottle and will sometimes say "it's okay Layla" to try comfort her.
He's great at making Layla happy and always manages to bring out the cute little baby giggles by acting silly and jumping around or popping the bubbles when I blow them. Seeing the joy in both their faces brings me so much happiness.
Equally Layla loves her big brother and enjoys watching him play with his toys and her eyes never stop following him around the room. When he's out of sight she's searching the room waiting for him to come back.
Any worries I had about him adjusting to her have now gone and I think they will get along with each other just fine but maybe I'll think differently when they are a pair of stroppy teenagers arguing over who's in the bathroom the longest.
For now I'll enjoy watching them learn, play and grow together.