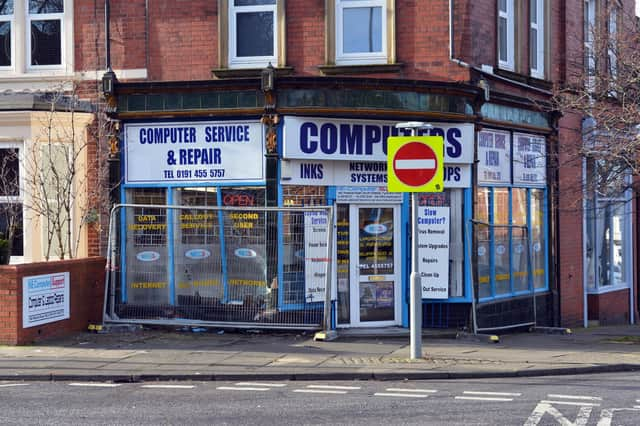 Front of NECS Computer Repairs following a blue Ford Mondeo smashing into the shop.
The force said three men were arrested after fleeing the scene of the crash, which happened at around 1.10am on Monday.
A police spokesman said officers had signalled for a blue Ford Mondeo to stop after its driver ignored a red light. The car refused to stop for police and continued through South Shields before it crashed into two stationary vehicles and the front of NECS Computer Repairs.
Staff at the shop were shocked to discover on their return to work that a car had smashed through the front of the building.
IT Technician Graham Erickson told the Gazette: "When I got here and saw the extent of the damage, it's quite a lot.
"You don't expect to come to work and see that a car has drove through the front of the shop.
"We will try and operate as best we can for the time being."
Northumbria Police have confirmed that two men, aged 18 and 26, have been released from police custody under investigation.
Another man, aged 24, has been released with no action taken.
Police are asking anyone who saw the blue Ford Mondeo in the early hours of Monday to contact them on 101 quoting log 30 02/03/20.