KATE OSBORNE: We owe it to proud marchers to help build a better Britain
Last week was the 84th anniversary of one of the most significant events in the 20th century history of the North East and Britain – the famous Jarrow Crusade.
Published 15th Oct 2020, 00:00 BST

- 2 min read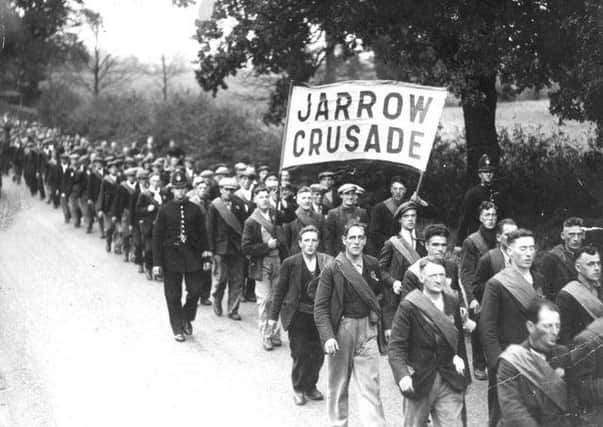 On October 5, 1936, 200 unemployed Jarrovians set off from Jarrow to march 300 miles to London, for what would become a very famous protest.
Those proud men took their fight for the right to work all the way to London, taking almost a month after leaving.
Jarrow had already suffered much during the Great Depression but when the Government-led National Shipbuilding Securities closed Palmers Shipyard a staggering 70% of Jarrow men were left devastated without a job.
They wanted Parliament, and the country as a whole, to understand that they were orderly, responsible people, who wanted the right to work, and were living in a region where there were many difficulties, where seven people out of 10 were unemployed.
Despite the hardship that they were experiencing, these dignified men, and the town of Jarrow itself, came together in a collective effort to make Parliament listen.
The Crusade, led by David Riley, chair of Jarrow council, and the MP for Jarrow, Ellen Wilkinson, aimed to arrive in Westminster at the opening of Parliament, where they would present a petition signed by 12,000 residents of Jarrow to the government.
When Wilkinson and the Jarrow marchers reached London the Conservative Prime Minister, Stanley Baldwin refused to meet them.
The 1936 Crusade instilled a great strength of community spirit and togetherness which still continues.
Comparisons may be drawn between those bleak times in the 1930s and today: the North East has the highest unemployment rate in the whole country. In the Jarrow constituency, there were 4,090 actual claimants of unemployment related benefits last month, a rate of 7.9% compared to the national rate of 6.5%.
The Jarrow March put the town on the world stage and we collectively owe it to the memory of the Jarrow marchers who went all the way to Westminster to build a better Britain, a much fairer country.
I look forward to the day when poverty, low wages, loss of jobs, are history too.