'I made the Angel of the North look like Mr Hanky' - Little Mix's Jade talks baking disasters and successes ahead of appearance Great Celebrity Bake Off for Stand Up To Cancer
South Shields' own Jade Thirlwall is appearing on Great Celebrity Bake Off for Stand Up To Cancer tonight.
Published 30th Mar 2021, 16:47 BST

- 4 min read
Updated 30th Mar 2021, 17:00 BST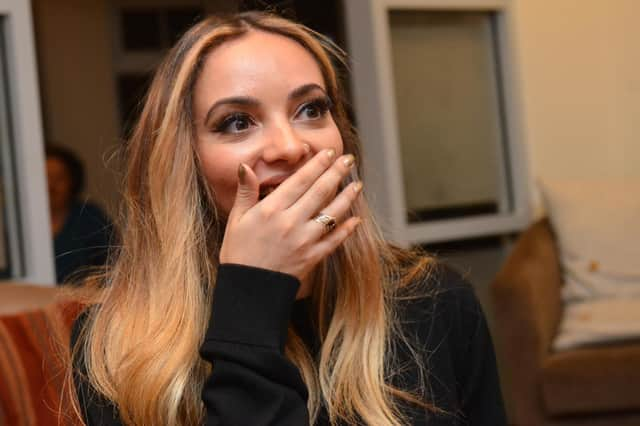 Ahead of the show, she answers questions on baking, competitiveness and why raising money for cancer charity's is so close to her heart.
Er… my experience up until Bake Off was that yes, I have baked – But always a premade pack that you can buy in the supermarket and add an egg to! That sort of level.
What are your strengths and weaknesses?
I think my strength is that I like doing creative, artsy things. I like colourful, adventurous things. I am a bit of a perfectionist, but that can also be my downfall.
If something's not going to plan in the kitchen, I get a little flustered quite quickly and I can spend ages on something really miniscule… Then I find that an hour has passed!
Have you ever had any culinary disasters?
Quite often, yeah. I've tried making birthday cakes every now and again, and it's ended up raw or the colours look really rubbish.
The good intention is always there, and I genuinely love to bake, but I think when I tell people that I'm going to bake something for them, they know not to expect TOO much. They'll get a lot of effort, but a great bake is questionable!
What's the worst thing you could be asked to make in the competition?
I think the worst would be some sort of cake. That's the one thing that I've never been able to execute that well.
Or something really technical wouldn't be my strongest suit. I was praying, when I got here, that there would be some sort of pie situation because, being northern, that's one thing that I can execute well.
Have you done anything in the way of practise or preparation for the competition?
Yes, but only two days of practice because I've been really busy working.
So one night, after work, I attempted the first challenge. It went horrifically wrong, then I tried it again and it went okay.
Then I tried the big showstopper on my day off. I spent all day doing it and I think I did a good job, to be fair. But once the time is whittled down to three-and-a-half hours in the tent, that's when it can all go a bit pear-shaped. Time is not my friend. I tend to really take my time, so I could be standing having a cuppa break and then before I know it, I'm out of time.
Are you competitive? How badly do you want to win?
I'd love to win, obviously. I've come here expecting the worst but hoping for the best. I do genuinely love the show, I am a superfan of Bake Off.
I watch every series; I absolutely love it. So even just to be here, for me, is really special. I was a bit starstruck when I saw Paul and Prue.
Why is SU2C important to you?
It's such an amazing charity. Me and the (Little Mix) girls have worked for the charity a few times before, but on a personal level, I've lost two family members over the past few years to cancer, my nana and my auntie, which was horrific to experience.
I've really seen first-hand how awful cancer is and seen the devastation that it causes.
In my hometown I work with a really small charity called Cancer Connections, who help to give sufferers, their family and friends support. I've worked with them since I was 14, doing little gigs for them, and it's always been a cause close to my heart.
Until you see someone you really love experience cancer, you don't fully realise how terrible it is. You always think "It won't happen to me," but it happens to one-in-two people. It's scary.
Presumably popping into a tent to do a bit of baking is an easier way of raising money for charity than climbing Kilimanjaro [which she did for Sport Relief]?
Oh god yes! Maybe I should keep that in mind when I'm having a mini-meltdown in the tent. "I've climbed Kilimanjaro, I can do this!" Both experiences are incredible. Obviously climbing Kilimanjaro was extreme – I really threw myself in at the deep end and it was the most amazing experience.
But Bake Off is so fun and exciting for me, and it shows that there are really fun ways of raising money. Honestly, I'm having the best time. The environment is lovely, the team are amazing, meeting the other bakers is really sweet as well.
In 'Eat In With Little Mix', a cookery competition between you and your bandmates, you tried something of a showstopper featuring the Angel of the North. Would you like to explain how that went?
I tried to make an Angel of the North crispy cake, and it ended up looking like Mr Hanky The Christmas Poop. It was awful. I've actually still got a stain on my wall, from where it fell into it and met its demise. It just fell apart.
That's the thing, you know, I'll always make an effort. Whether it's executed well is another thing.
Who is the best baker in Little Mix? And who's the worst?
I can honestly say that I am the best of a bad bunch. When it comes to baking, I'm definitely the best. Cooking-wise, I'd say that Leigh Anne is a really good cook. She loves making Caribbean food and it's amazing. But when it comes to baking a cake, I'm your girl.
Support your Gazette and become a subscriber today. Enjoy unlimited access to local news, the latest football stories and new puzzles every day. With a digital subscription, you can see fewer ads, enjoy faster load times, and get access to exclusive newsletters and content. Click here to subscribe.