Female-led South Tyneside Council support IWD 2023 - while Town Hall will be lit in purple to celebrate
South Tyneside Council hails an all-women leadership team.
Published 8th Mar 2023, 13:59 BST

- 2 min read
Updated 8th Mar 2023, 13:59 BST
South Tyneside Council will be lit up in a purple light tonight to celebrate International Women's Day 2023 - the global movement which celebrates the social, economic, cultural and political achievements of women.
The theme of this years International Women's Day is to #EmbraceEquity, which recognises the importance of giving everyone the tools and opportunities to become successful.
The theme is hugely supported by South Tyneside Council who are calling for a more equitable world.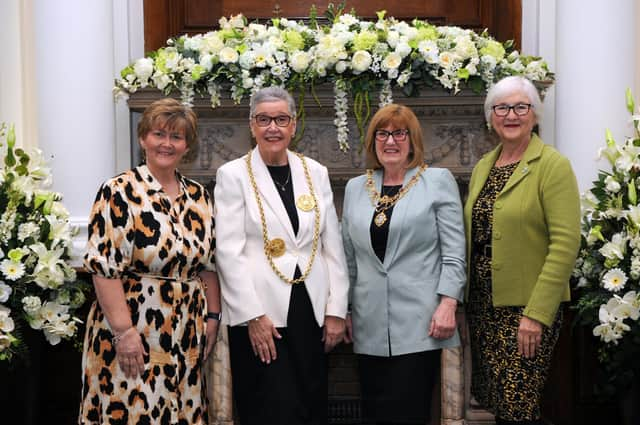 South Tyneside Council is known for their support towards International Women's Day, which also includes calls to action towards women's equality and inclusivity.
Mayor of South Tyneside, Councillor Pat Hay said: "International Women's Day is an important day that connects women all over the world calling out gender stereotypes and discrimination in everyday life.
"This year's theme #EmbraceEquity also aims to spark conversations and get people thinking about how equal opportunities are simply no longer enough. Moving beyond equality, the theme acknowledges that each person has different circumstances and experiences and recognises that people need different support and opportunities to be able to achieve equality."
South Tyneside Council hails an all-women leadership team, which includes both a female Mayor and Mayoress in office. They are also proud to have two female MPs in South Shields (Emma Lewell-Buck) and Jarrow (Kate Osborne) constituencies representing South Tyneside in national government. Northumbria's Police and Crime Commissioner is also a female - Kim McGuinness.
South Tyneside Council will also be launching their own employee-led Women's Network this month, to champion women's issues across their workforce.
Councillor Ruth Berkley, Lead Member for Voluntary Sector Partnerships and Equalities, said: "Through campaigns such as International Women's Day we can help to inspire women of all ages and backgrounds to be all that they can be. By embracing equity, we can help to give everyone the tools and support they need to achieve their full potential regardless of their gender.
"We are also incredibly proud of what women have achieved in South Tyneside. Whether in government, sports, business or culture, there are many wonderful strong, confident local women, striving to make a significant difference to the lives of the people in our Borough and beyond every day."