UK Weather: Met Office predicts when snow will hit in March - where will be affected
The Met Office however maintained some areas will remain "largely snow free" despite the predicted cold snap in March.
The UK is predicted to face a cold spell in the second week of March - with speculation a 'Beast from the East' is due to make a return., the Met Office has said. Also known as Sudden Stratospheric Warming, the phenomenon could cause colder temperatures and possible snowfall in some regions.
However, the forecasters maintained these conditions are more likely to be mixed, with some areas remaining "largely snow free" - and orth western areas likely to "stay driest" throughout this period.
It said: "Temperatures are likely to remain below average to start, although a trend towards average temperatures is most likely later on. Despite this trend, short colder spells remain possible, and are more likely than average."
According to the Met Office, temperatures will be below 10C in most areas and could drop close to freezing at night as the weather cools after a mild winter.
The forecast said it will be chilly on Monday and Tuesday this week, with a noticeable north easterly wind in the south and patchy frost overnight as the temperature is expected to drop further next week. However, the arrival of snow in the south of England, which was tentatively forecast for this week, is no longer expected.
UK weather forecast for this week (February 27 - March 5)
Today:
Many areas are cloudy, with scattered light showers; there are a few brighter breaks, but western, and especially northwestern, areas are the sunniest overall. Later, some sunshine will appear across the southeast. Under cloudier skies, it's cold, with a noticeable northeasterly wind in the south.
Tonight:
Cloudy for many areas, with scattered showers in the east and centre. Clearer with frost in northwest Scotland, as well as some clear spells with patchy frost in the south.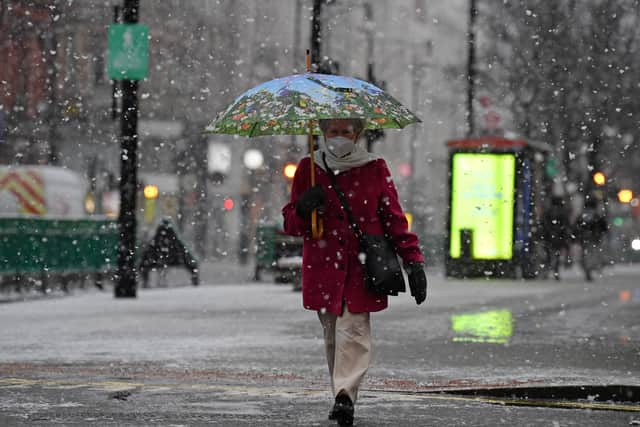 Tuesday (February 28)
Rather cloudy, with the best sunshine seen in western Scotland. Elsewhere, a few light showers, which may become more frequent across the southeast later. A little chilly under the clouds.
Outlook for Wednesday (March 1) to Friday (March 3):
Remaining settled but often rather cloudy, with a scattering of light showers affecting some northern and eastern coastal areas, especially at first. Rather cold with light winds.