Best sports bras UK 2023: high support, shock-absorbing exercise bras
Classy, comfortable ladies' sports bras for all sports and shapes – tried and tested
Published 26th Feb 2021, 09:35 BST
Updated 6th Mar 2023, 16:11 BST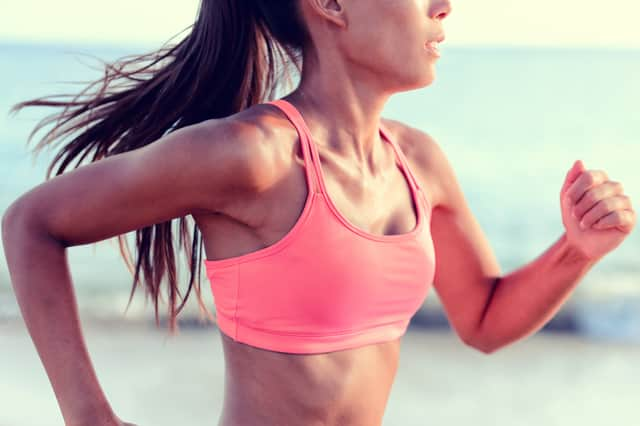 This article contains affiliate links. We may earn a small commission on items purchased through this article, but that does not affect our editorial judgement.
A moment of thanks for just how far sports bras have come in the 34 years they've been in existence. The first known sports bra was created in 1977 using two jockstraps – inventive, sure, but not quite our idea of comfortable cardio attire.
These days, there are countless high quality sports bras available, and many which don't compromise on appearance. However, finding the best sports bra for your body and chosen activity can feel overwhelming.
How to shop for the best sports bra
Research has found that poor breast support during activity can result in breast pain, damage to the skin (which is the breast's predominant support structure) and can even affect your performance by reducing stride length and causing changes to breathing (such as breath-holding). 
And it's not just the bigger-breasted among us that experience issues from lack of support; the Research Group in Breast Health at the University of Portsmouth found that highly-supportive sports bras can reduce discomfort and movement from A cups upwards. The question is, what classifies as a highly-supportive sports bra, and where do we find one?
As it stands, there isn't a regulatory body that certifies the quality of sports bras, so whilst some brands invest in independent tests, many sports bras you come across may only have been tested in-house. Low, medium and high support ratings are generally allocated by brands, and there's actually no criteria that needs to be met in order for a brand to label a product as a sports bra.
The key considerations when shopping for a sports bra should be breast size and also the type of activity you plan on undertaking.
There are three types of sports bras – compression, which fits like a crop and works by hugging breasts to chest, encapsulation, which mimics everyday bras in appearance with a few added extras, and combination bras which, unsurprisingly, combine elements of both.
Compression bras can really only offer enough support for those with smaller breasts (A-C at a push), whilst encapsulation is preferable for those with larger breasts. Bear in mind that as breast size increases, so does the need for support.
How the best sports bra should fit
'You should always ensure that the bottom band is secure, as this is the foundation of support,' says Helen Splaton, Apparel Merchandising Manager EMEA at Brooks Running. 'With the right-fitting bra, your straps should also stay in place on the shoulder without digging in or sliding off.
As a general rule of thumb, 'secure' means that you should be able to fit two fingers under the band/straps – but not comfortably more than two!
'The cup shape is also important, and you should look to see that there is no spilling at the neckline or, conversely, no gaping open cup. Finally, the bottom band should sit level around the body without riding up at the back which would suggest the incorrect size.'
When trying on a sports bra, Hannah advises against judging its support level by just jumping up and down. 'Unless all you plan on doing is jumping, you'll want to try it out doing the motion you want it to work in,' she says. 'If you're a runner, go run in it! If you do yoga, downward dog in it! Most brands want to ensure what you purchase is working for you, so don't be scared to take them up on that offer!'