Best trail running shoes for men UK 2022: stable, high-protection shoes from Merrell, Salomon, inov-8, Hoka
Don't fret about mud or rough terrain - hit the great outdoors in one of these excellent pairs of men's trail running shoes.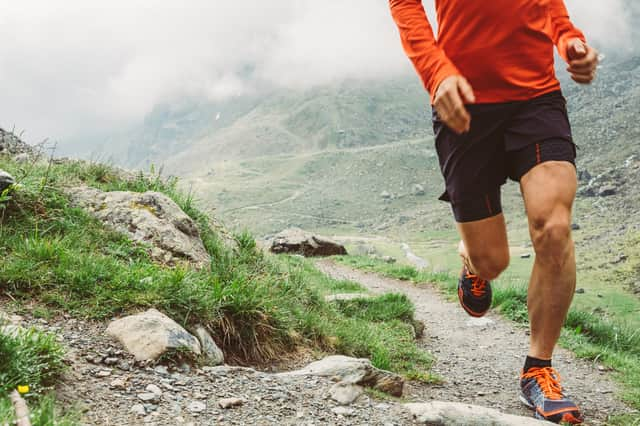 This article contains affiliate links. We may earn a small commission on items purchased through this article, but that does not affect our editorial judgement.
There's never been a better time to trade the tedium of tarmac for the miles of verdant, muddy and gravelly trails which intersect the cities and towns of the UK, or escape civilisation altogether and tackle the awe-inspiring woodland, mountain and coastal trails.
When tackling technical terrain, however, it is essential that you are equipped with a confidence-inspiring trainer that can provide you with grip on your surface of choice and offer you cushion and stability for the inevitable rocky obstacles that you encounter. 
What to look for in a trail running shoe?
There's no one standout shoe - it's all about finding the right equipment for you.
"It depends where you're running," explains Get Active Running coach Donnie Campbell. 
A trail shoe is made up of three key components : an outsole (the grippy bit); a midsole (the cushioned area); and the upper (the lacing system and the mesh which protects the foot) - Campbell explain that you may need to: "sacrifice performance in certain parts of the shoe".
For example: "In winter you might look for a shoe with more aggressive lugs on the outsole.
"If you were running on a harder surface you might use a less aggressive shoe with more of an emphasis on cushioning.
"I personally have three or four pairs of shoes depending on where I am running. "
Ultimately, Campbell says it's about "finding a shoe that you're confident in and comfortable in."
How much do I need to spend?
Trail running shoes often utilise state-of-the-art technologies to offer runners the maximum amount of protection and that does come at a cost. 
Runners might be tempted to don a worn pair of running shoes suitable for the gym or a neighbourhood run when tackling a mountain ridge or a muddy of slopes, but this is akin to running into battle without a shield or suit of armour - protecting yourself is a worthy investment. 
All of the following shoes cost between £100 and £150 and this price is par for the course for newly released trail shoes.