Everything Kevin Phillips said on South Shields title bid, frustration and supporters after Radcliffe draw
The Mariners boss gave his thoughts on Saturday's draw and what lies ahead in his side's promotion bid.
Both sides showed plenty of effort and endeavour throughout a tense 90 minutes in front of a mammoth Non-League Day crowd of 3,243 at the 1st Cloud Arena. However, it was two well-marshalled defences and two alert goalkeepers that won the day as the deadlock remained in place when the full-time whistle was blown.
Despite only securing a share of the spoils, the Mariners still head into next weekend's visit to second-placed Bamber Bridge with a 12-point lead at the top of the table as their title push approaches its final five games.
Here is everything the former Sunderland and England striker said about his side's performance, the promotion push and the outstanding attendance on Saturday.
On coping with nerves as promotion draws near
"I just said to the players, no matter what you do, it's human nature when you get to this point in the season, with the points we've got, the pressure, you're going to be nervous, and nerves make you make bad decisions.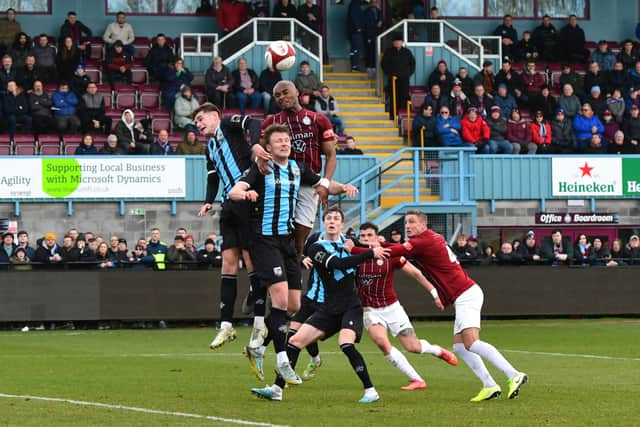 "In the early point of the season, when the pressure is off, we are making good decisions and we were carving teams open and scoring goals. But at this stage of the season, I've been there so I wasn't critical. It's the same messages every week, we just have to relax in the final third, it's a bit of composure. If we did that today, potentially we would have won the game.
"I'm frustrated because now we have a tough game at Bamber Bridge - but if you'd said to me we are 12 points clear with five games to go, I'd have taken that every day of the week."
On struggling to make an impact in the final third
"It's every game, apart from Bamber Bridge when we played here and won 5-0. It is what it is. I'm not going to get too frustrated, it's the level we are at. I talk to players, I show them, it's constantly relax, but there's no pressure from me, just relax.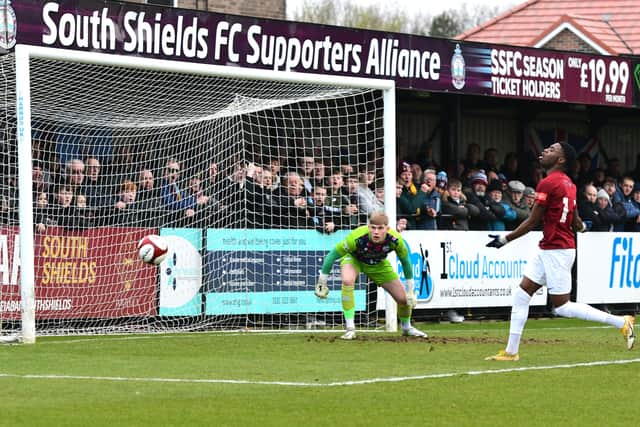 "You can't coach that, that's why I'm not flustered and too frustrated, that's why I wasn't too critical of them. But defensively we looked solid, Tom Broadbent and Gary Liddle, especially Tom were excellent defensively. He can do better on the ball but we have to be pleased with that."
On attempting to 'earn' promotion
"I wanted to send this bumper crowd away really happy but they've got to understand the pressure these players are feeling because we are that close. Everyone wants and expects Shields to go up but we don't expect it. We have to earn it, grinding out results like we did today and it's amazing how football turns around because at the start of the season we were winning comfortably at home, the place was a fortress.
"Now we are winning away, where we feel less pressure, so we are looking forward to the game on Saturday. I'm sure the fans will come down in their droves and hopefully we can get a result."
Phillips on the remarkable attendance of 3,243 supporters
"It's amazing but it doesn't surprise me. On Non-League Day, Sunderland away (not playing), Newcastle away (not playing), we knew they'd turn up in their droves and we've played in front of big crowds this season.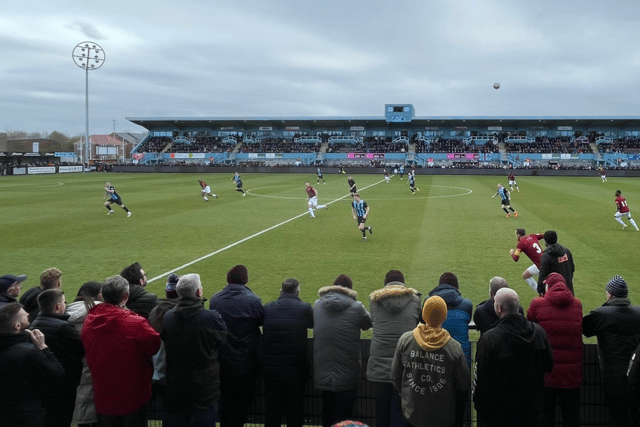 "I said that to them before, we went toe-to-toe with Forest Green here, with Scunthorpe here, top teams, but the pressure wasn't on them then because we weren't expected to win. The pressure was on us to win here, you could sense that, so I can't be too critical of the players. The fans were excellent, they have been all season and they will continue to be until the end of the season."
On facing title rivals in the final weeks of the season
"It's just the way it is and I said I'd rather go up that way having played good teams at this stage in the season, rather than playing teams that are scraping for points.
"So it's never easy, you know, you've seen teams raise their levels against us, hence Hyde go and get beat today after putting in a hell of a shift against us last week. We have seen it so many times. FC United beat us and then they get beat 3-0 straight afterwards. Teams raise their levels against us, why wouldn't you coming to a place like this. Credit to Radcliffe, they've got some excellent players, they're a good side and it was a fairly even game but I'm a tinge disappointed we didn't win."
On travelling to Bamber Bridge and the title race
"It's ours to throw away, it's in our hands. We've got a week to prepare, we picked up a knock with Blair (Adams), he should be fine, but Dillon (Morse) is back training so we should have a full squad to travel down to Bamber Bridge and put in a performance. We are in a fantastic position with five games to go so I think we would have all taken that."