Eddie Howe reveals the Newcastle United dressing room reaction to Anthony Gordon's transfer after Everton clashes
Eddie Howe's revealed the Newcastle United dressing room reaction to Anthony Gordon's move to the club.
Gordon joined over the weekend in a deal worth up to £45million to Everton. The winger, ineligible to play in tomorrow night's Carabao Cup semi-final second leg against Southampton, could make his debut in Saturday's Premier League home game against West Ham United.
The 21-year-old clashed with a number of Newcastle players, including stand-in captain Kieran Trippier, during a 1-0 defeat for Everton at St James's Park in October.
And Eddie Howe was asked about the footage of Gordon standing up to his players ahead of the Southampton game.
"It's interesting looking back at that footage," said United's head coach. "You don't think anything of it at the time – he's an opposing player.
"You're battling people for points, so it's a totally different thing when a player's on the opposing team – and now he is one of us. The players will embrace that spirit that he has, that passion that he has.
"I like the fact that he didn't stand down that day. He was aggressive in standing his position. The supporters will love that about him. Our own players will love that about him.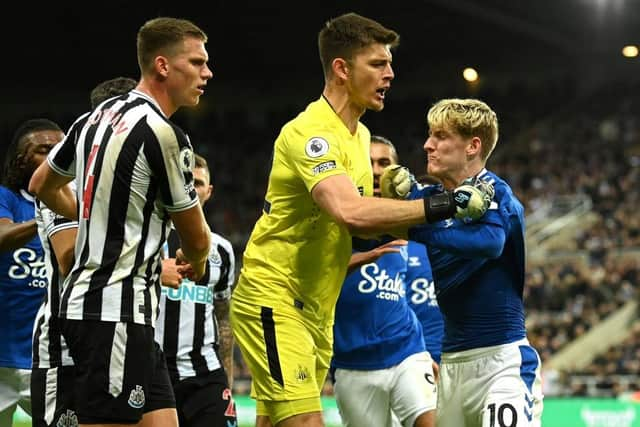 "He brings something different to us. I'm sure it will take time for him to feel part of the group. Naturally, that always happens, but the players will grow to love him."
Gordon was used sparingly by Frank Lampard in the weeks before his dismissal, and he also stayed away from Everton's training ground for three days last week amid talks over a move to Newcastle.
And Howe says the club will "support and guide" Gordon as he adjusts to the club after a challenging few months.
"For someone of his age, we're going to need to really support him – and guide him through this move," said Gordon. "Certainly, from the person that I met yesterday, I was hugely impressed by how he handled it. It's a big day. I've been there as a player.
"You go to a new club and it can be daunting. I thought he was excellent in everything that he had to encounter, meeting new team-mates, meeting new coaching staff, getting a lot of information, trying to settle in. I thought he handled himself really well."
Gordon – who has been interesting United since his "early days" at Everton – can play on either flank or through the middle.
"I think he'll give us a lot," said Howe. "He's a young player with huge potential to have a big impact on our season.
"Very quick, dynamic player, versatile, can play off both sides. The best is yet to come from him. I've got no doubts about his character. We've tracked him for a long, long time, ever since the early days at Everton. I think we know the player."
Gordon will watch the Southampton tie, which Newcastle lead 1-0 following the first leg, from the stand.
Howe said: "It'll be a really useful experience for him tomorrow to sample the atmosphere.
"It's totally different when you're watching from the stands than it is to playing and feeling it on the pitch, but it'll give him an idea of what's in store for him."