Eddie Howe's stance on Newcastle United's critics – after 'inaccurate' Jurgen Klopp comments
Eddie Howe's revealed his approach to criticism of Newcastle United.
And United's head coach, speaking ahead of tomorrow's home game against Liverpool, was asked if he felt he had to "stand up" to Klopp at the time.
"I will always protect the club if I feel I need to," said Howe. "I'm not going to make any reference to comments from any individuals, but part of my job here is to defend the name of the club, and defend everything: the people, the supporters – and the players when I feel it's justified to do so."
Newcastle are fourth in the Premier League, while Liverpool – the only team to beat them so far this season – are nine points behind them in ninth.
Liverpool, however, have spent more than Newcastle this season.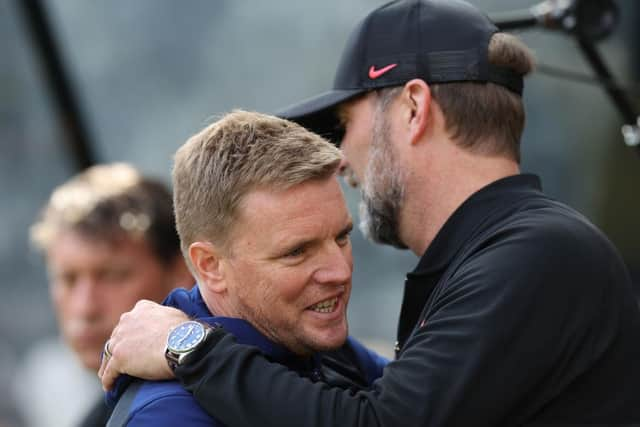 "I don't look at what other teams spend," said Howe. "I can only look at we're doing, and what we need in every transfer window. People's comments on spending, I'll let them do that.
"I'll never make an opinion on other teams, because I don't know what they need or what their objectives are. For us, we have used the windows wisely so far. I'm really happy with the squad we have."
Howe added: "Every club will say the same, it's not just about a good transfer window leading to success. You can sign good players – and still not get the success you crave on the pitch.
"Your training, there are so many things go into making a team, and you have to get the majority of those components right to be consistently successful."
Asked if he would have a drink with Klopp after the game at St James's Park, Howe said: ",It's going out of the game. When I first started there was an expectation, but that has changed.
"But, yeah, of course I'd share a drink with Jurgen. Whether we do it after the game, or another occasion, he's someone I respect immensely."