Fresh Newcastle United injury update with player set to miss the rest of the season
Newcastle United defender Emil Krafth has spent the last six months on the sidelines and is unlikely to feature again this season.
The right-back suffered an ACL injury during Newcastle's 2-1 win over Tranmere Rovers in the Carabao Cup second round back in August. After being omitted from The Magpies' 25 man Premier League squad for the first half of the 2022-23 season, Krafth has been included for the second half of the campaign despite head coach Eddie Howe admitting he probably wouldn't be fit enough to play before the summer.
Reflecting on a difficult spell on the sidelines, Krafth said: "Of course, it has been up and down. It was really hard at the beginning to accept that you were going to be out for such a long time. As soon as it happened, I was devastated for a few days and I didn't know where to go.
"An injury is never great timing but, for me, I was playing a lot from January until the summer. The team were doing really well and I'd say it was the best form of my career so far. I felt I had a good pre-season and had also extended my contract with the club."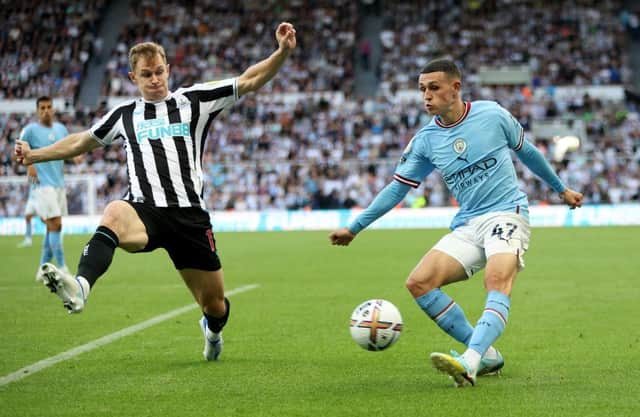 Krafth required surgery on his knee and spent time back home in Sweden as well as travelling with the squad to Saudi Arabia in December to step up his recovery. He is now finally back out on the grass continuing his rehabilitation at Darsley Park with light training.
"For the last five months, it felt like I was in jail," Krafth told the club website. "I had to go in the gym everyday when the lads went outside and I could never see them training and have that fresh air or get some motivation.
"I know, though, that it is ultimately going to take me to the pitch so I had to put good effort in there first. Compared to now, it's night and day and being back out on the grass for the last couple of weeks, which has been great.
"The biggest thing for me was when I could start to run again, first on the Alter G [anti-gravity treadmill] but then being able to run outside these last few weeks which was a good milestone for me."
And as Krafth looks ahead to the future, he has vowed to come back stronger and fight for his place in Eddie Howe's side.
"It's the first time I've had a long-term injury so you don't really know how to handle it," he added. "You don't know the rehab process and everything is new to you.
"However, my motto is 'what doesn't kill you makes you stronger' and I think I'm going to come back stronger than ever before.
Krafth continued: "As a player, you always want to be involved in the games so that's hard. It was hard at the start but, now, you kind of accept it a little bit more that you'll be out for a while.
"I can't wait to get back in the team. That's the biggest target. I'm not setting a specific date when I'll be back but I'm determined to get back and fight for my place again."