Fulham boss blasts Newcastle United's 'unfair advantage' ahead of Premier League meeting
Fulham manager Marco Silva has hit out at the Premier League ahead of Sunday's trip to Newcastle United (2pm kick-off).
Fulham go into the game on the back of an impressive 2-1 win over West London rivals Chelsea on Thursday night at Craven Cottage. A fourth straight league win took The Cottagers up to sixth in the Premier League table, four points behind third placed Newcastle, who have a game in hand.
While Silva was quick to play down talk of a battle for the Champions League places with Newcastle, he did point out the 'unfair' advantage Eddie Howe's side have going into the game.
"I speak for ourselves, not [a Champions League battle] at all," Silva said during his pre-match press conference. "We're in a great position in the table but we are not yet going to change anything from our goals until we achieve that.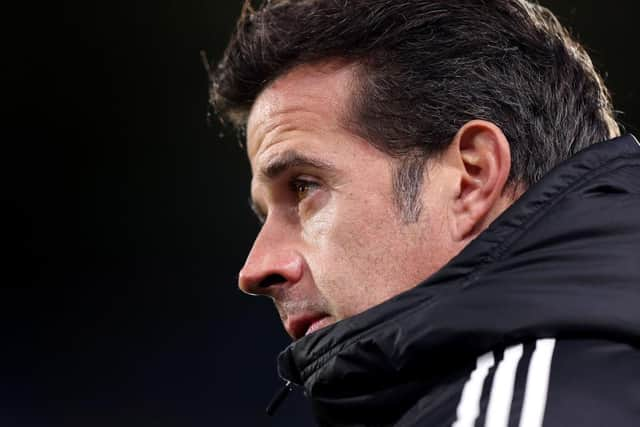 "The Premier League is tough and a good example is the next game that we are going to play against a top, top side. Brilliant work from Eddie as well, their players – it will be difficult for us because we almost don't have time to prepare for the game."
The Fulham players will train on Friday before travelling up to Newcastle on Saturday for the Sunday afternoon match. And with just two days between Premier League matches, Silva continued to voice his dissatisfaction surrounding the scheduling of the Chelsea match on Thursday.
The derby match was initially set to take place in September but was postponed following the passing of Queen Elizabeth II.
"It isn't fair for us to start that game at 2pm on Sunday, not because [how] the game will be, more because the way the way they scheduled the game against Chelsea for the Thursday night," Silva added.
"It's difficult to understand after a so busy period after the World Cup. That wasn't scheduled, they decide to put our game against Chelsea on a Thursday night, two days before the Newcastle match.
"It will be difficult, we finished a game at 10pm last [Thursday] night then we're going to start the game at 2pm [Sunday]. It is not taking care of the players, I know that the Premier League is tough for everyone but it's really dangerous for the players that they are going to start the game again at 2pm.
"It is not fair for us to have such a different time from Newcastle to prepare for this game. It's not about Newcastle, it's more about the game that was scheduled against Chelsea."
The Fulham boss added: "Yes [they have an unfair advantage] but it's not their fault at all.
"Our game against Newcastle is there from the beginning of the season, it's more about why the game against Chelsea was scheduled [Thursday] night, in my opinion that is not fair."
Fulham are set to welcome top-scorer and former Newcastle striker Aleksandar Mitrovic back from suspension this weekend as Silva's side look to secure a fifth straight league win. Meanwhile Newcastle are looking to extend their unbeaten run in the top flight to 14 matches.