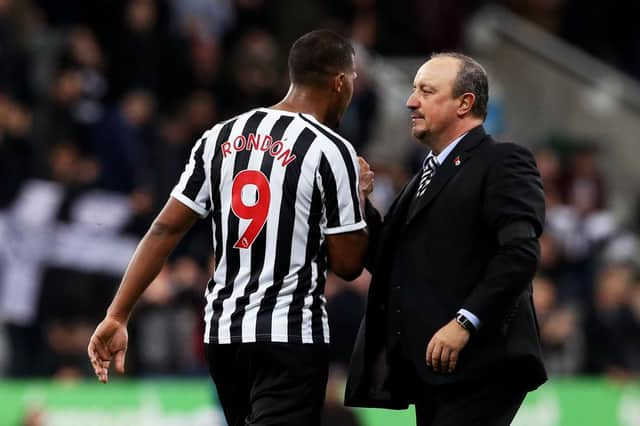 Salomon Rondon of Newcastle United shakes hands with Rafael Benitez, Manager of Newcastle United at the end of the match after the Premier League match between Newcastle United and Watford FC at St. James Park on November 3, 2018 in Newcastle upon Tyne, United Kingdom.
And while the Venezuelan striker talks of progression, it underlines just how much regression there's been among the current United crop.
The likes of Sean Longstaff and Fabian Schar have failed to progress under the stewardship of Steve Bruce, having been star players while Benitez was at the club.
And it is only recently when players such as Miguel Almiron, Jamaal Lascelles and Paul Dummett, when fit, have enjoyed spikes in performance for the first time under Bruce.
This photo taken on August 20, 2020 shows Dalian Pro's Salomon Rondon (R) being led off by coach Rafael Benitez (partly obscured) and teammate Marek Hamsik as he argues with Shenzhen FC players at the end of their Chinese Super League football match in Dalian, in China's northeast Liaoning province.
While Bruce is very 'hands off' with his squad, leaving much of the current work to Graeme Jones of late, Benitez was less so. And Rondon, who now plays for CSKA, told Spanish publication Marca how big an impact European Cup winner Benitez had on his own game.
"If I have to choose a coach from whom I have worked I choose Rafa Benítez, he taught me a lot. He is a true gentleman and I learnt a lot with him," said 31-year-old Rondon.
"I appreciate his way to reach to each player. He can talk about a lot of issues.
"I took advantage of everything he could teach me.
"I liked working with him and all that I learnt from him was marvellous. I will thank him for our moments in China all my life.
"There is always another perspective like the one from Rafa Benitez
"With his honours, I think he will know some things to do it right."