Kieran Trippier reacts to Gareth Southgate England decision and reveals Euro 2024 ambition
Newcastle United defender Kieran Trippier has had his say on Gareth Southgate's staying on as England manager following the 2022 World Cup.
Trippier was handed his England debut by Southgate against France in 2017 and has since represented The Three Lions in each of the last three major tournaments. But after England's quarter-final exit to France in Qatar, there was speculation regarding Southgate's future as manager.
But The FA have confirmed that Southgate will continue as England manager with the hope of guiding the country to Euro 2024 success. England will open their qualifying campaign against Italy, the side they were beaten by in the Euro 2020 final last summer.
And Trippier was quick to make his feelings clear on Southgate remaining in charge.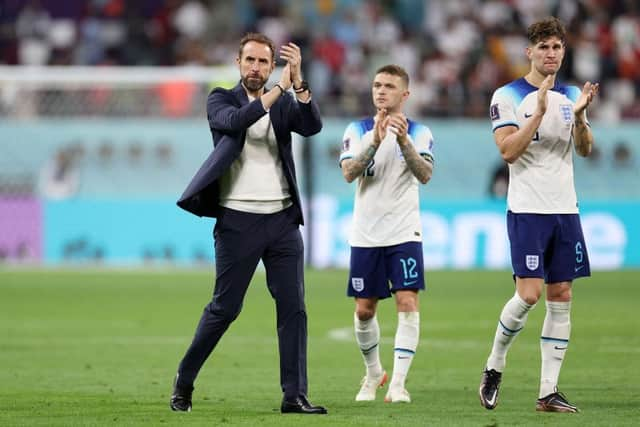 "We are all absolutely delighted about it," Trippier said. "From the moment he first took charge until now we've taken huge steps. Players want to play for England – what it means to put the shirt on. He's a great man manager and I think all the lads would say that.
"Speaking from myself I'm delighted that he's staying on and I know that all the rest of the players are too."
England's World Cup campaign showed plenty of promise before they were beaten 2-1 by France in the quarter-final. Despite the ultimate disappointment, Trippier believes further progress has been made.
"I think we have moved forward, for sure," he admitted. "You see the freedom the players had to attack and you just have to look at the France game. I thought we were brilliant in that game.
"Disappointed to lose the game but I thought we performed very well against the holders at the time. We have taken huge steps. It was another learning curve for us but we move on now, we've got to focus on the next international break now."
Although Trippier turns 33 next year, he is still hoping to play a part in the Euro 2024 campaign.
"Yes - I know I'm up against tough competition," he added. "All I can do is focus on myself, focus on my club and keep giving my best.
"If I get called up and don't play I'll always give 100%. If I don't go I'll still support England as well as I can. You'll get no bitterness from me!"