Mikel Arteta responds to 'disrespectful' antics v Newcastle United amid Arsenal FA charge
Mikel Arteta has hit back at the criticism he and his Arsenal side faced following last Tuesday's 0-0 draw with Newcastle United at the Emirates Stadium.
Arsenal dropped points at home for the first time this season as Eddie Howe's Newcastle side frustrated the Premier League leaders, who were denied a 95th minute penalty. Following the decision, Arteta let his frustrations get the better of him as he became animated on the touchline while his players surrounded referee Andy Madley.
As a result, The Gunners were charged with breaching FA Rule E20.1 in failing to ensure "all directors, players, officials, employees, servants, representatives, spectators, and all persons purporting to be its supporters or followers, to conduct themselves in an orderly fashion."
Arsenal have until Tuesday, January 10 to respond to the charge.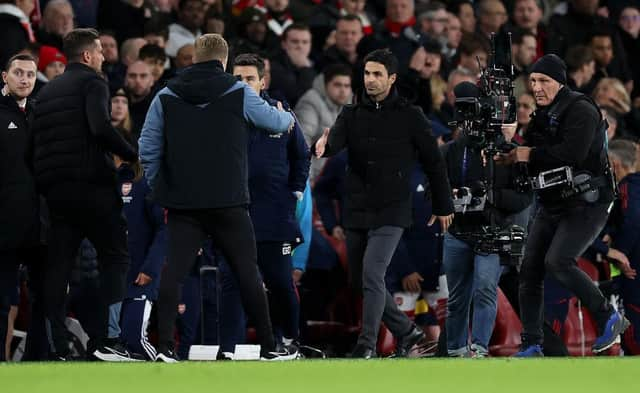 Arteta labelled the penalty decision 'scandalous' and drew criticism for his touchline antics. Newcastle legend Alan Shearer branded Arteta's behaviour 'disrespectful' and said via Premier League productions: "I get he wants to be animated but if his players behaved like him, he wouldn't like it and it would cost him. He needs to calm down.
"I get they're top of the league and it's a big game, but he's making it very, very difficult for referees and he's disrespecting the opposition. They know they're under pressure but when you see your manager behave like that on the touchline."
But Arteta defended his actions, stating that he was merely being 'passionate.
"I hear a lot of times that this team is the mirror of the coach," he said, ahead of Arsenal's FA Cup third round tie at Oxford United on Monday (8pm kick-off). "Or the passion, I don't know."I'm not part of that debate. I think publicly they [pundits] can have their opinions. I try to do my best for this football club, to defend it, to promote it and to play with the passion I believe the game has to be played with.
"Every manager behaves differently regarding the circumstances. You cannot take the context out of a situation - I don't think that is fair. That's me! Whether I am here or on the pitch, that's me - the good and the bad!"