Newcastle United and West Ham duo deliver explosive predictions ahead of St James's Park showdown
Newcastle United return to Premier League action when they face West Ham at St James's Park.
Published 4th Feb 2023, 07:00 BST

- 2 min read
The two sides are yet to face each other this season and have had highly-contrasting fortunes in the league with 21 points separating them ahead of kick-off.
Despite the scenes of jubilation after securing their first appearance in a major cup final for almost a quarter of a century in midweek, Callum Wilson was keen to assure fans that the team are already focussed on the challenges posed by West Ham.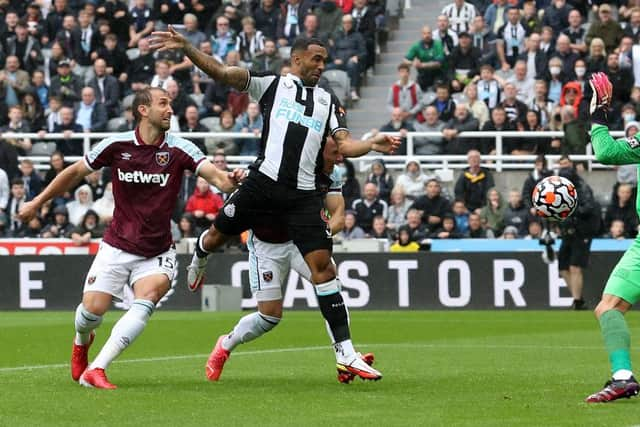 Speaking on the Footballer's Football Podcast he co-hosts with Hammers striker Michail Antonio, Wilson said: "Your focus switches quickly to the Premier League. You've got to recover, everyone is jumping in ice baths and getting massages because you've got a game again in a few days when we need to slap-up West Ham… again.
"I'm looking forward to it, just don't come near me as I will have to put you on your backside. You know me, big man.
"I'm looking forward to it, not just because of us you know, but playing West Ham, I've got a phenomenal record against them and I'm in need of a goal so if I could play them every week then I'd be buzzing."
When asked about how many goals he had this season by Antonio, Wilson replied: "Only six. I'm not happy with my tally.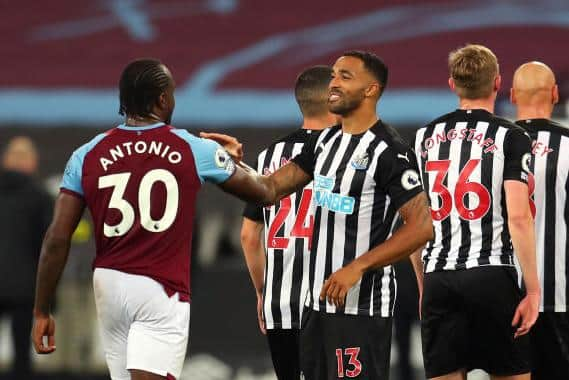 "I've just hit a dry patch at the minute but it can't last forever, it's going to change and it's all about the team performance."
The pair were then asked to deliver their predictions ahead of the game and, unsurprisingly, both feel they will be taking home the three points this weekend.
Antonio said: "I honestly believe, this isn't just banter, we're going to win. I feel you guys might get a goal, but I feel we are going to win 3-1."
To which, Wilson responded: "Three? We've only conceded one in the last ten but you're telling me you're going to score three?"
"You're going to lose. People come to Newcastle nowadays and they're happy for a draw, so you're going to be buzzing just to get a draw. Fact.
"The way the season is going right now a 0-0 draw or 1-1 draw for you is a fantastic result - but that isn't going to happen.
"It's going to be 2-0, Wilson first goalscorer, probably within about the first ten minutes, it's a fact. It's like deja vu isn't it?
"I can feel you getting deja vu. Wilson, four minutes on the clock against West Ham, you know what happens.
"Boom, header, near post. This time I might head it to the far post - I'll decide on the day.
"Basically, you're going to be silent on this podcast next week. [Gianluca] Scamacca is going to be coming on, I'll be waving you off the pitch like Jacob Murphy does to players. We'll chat after the game and if you want my shirt I can sign it for you.
"I might even celebrate in-front of you. You know one of those where a player celebrates in-front of an opposition player?"