Newcastle United criticism debunked by £3m transfer bargain brought in from the cold by Eddie Howe
A lot's been said about the money spent by Newcastle United.
However, a lot less has been said about what Eddie Howe has got out of the players he inherited just over a year ago.
One player was in the cold a year ago shortly before Howe's arrival – and seemingly facing a future away from the club. That player was Fabian Schar, signed by Rafa Benitez in the summer of 2018.
Schar made a couple of appearances at the start of last season before dropping out of the team – and the ball-playing defender looked to have no future at the club under Steve Bruce.
Schar, a fierce competitor, was recalled for Howe's first game against Brentford last November – and he's been a fixture in the team since then. Speaking in the summer, Schar said: "I've said this a lot of times. From day one, I've had confidence in the gaffer, which helps me a lot.
"Obviously, it was tough before (Howe's arrival), but since they arrived, I felt confidence from them, 100%. I did my part as well, played my game and got back to my best."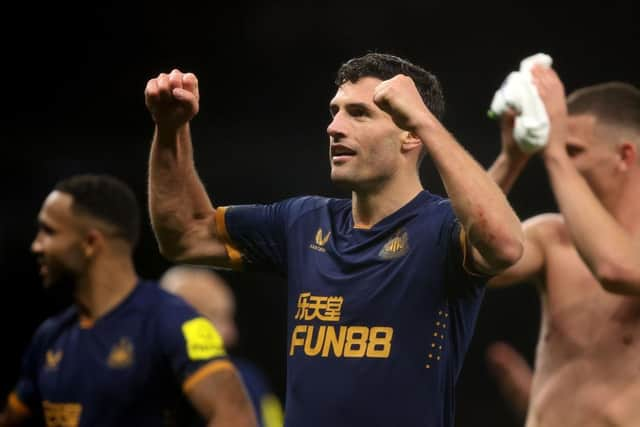 The Switzerland international made his 100th Premier League appearance at the Tottenham Hotspur Stadium. Schar tweeted: "I couldn't have imagined anything better for my 100th Premier League game! Thanks for your support! I love and appreciate it a lot."
Howe, clearly, appreciates Schar, who has been playing alongside summer signing Sven Botman.
Speaking in February, Howe said: "Fabian's someone I've always admired from afar from a number of years. Really, really good footballing centre-back.
"I've really enjoyed working with him. He's a really good character, takes his football very seriously. Again, wants to improve. He hadn't played in a long time, and I think his performances, as he's physically improved, have got better and better."
What's more, he cost the club just £3million. Newcastle have been getting better and better – and that improvement isn't all down to money.