Newcastle United head coach Eddie Howe explains Dan Burn's hilarious misunderstanding
Dan Burn danced in celebration after scoring a memorable first Newcastle United goal in the club's Carabao Cup win over Leicester.
A TV camera captured the moment Burn danced in front of his team-mates in the dressing room after last night's 2-0 win at St James's Park. The result put the club into the last four of the competition for the first time in more than 47 years.
However, what Eddie Howe had been expecting from the boyhood United fan, signed a year ago when the club was in the Premier League's relegation zone, was a speech.
Asked about Burn's moves, United's head coach said: "Do you know what? I was actually asking him to give a speech – and he stood up and danced!
"He's a great character, and he's added real leadership and experience to the group. He's a really well-liked member of the dressing room, so when someone as popular as him has a moment like that, it's nice for everyone to share it with him."
Asked if Burn prefers dancing to speaking, Howe added: "Well, obviously! And he moves quite well for a big man."
'Thing of beauty'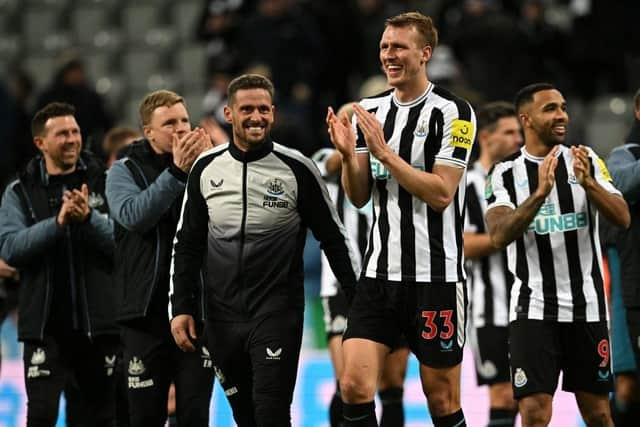 Burn, 30, broke the deadlock with his weaker right foot in the 60th minute. Newcastle had done everything but score until that moment.
"Brilliant moment for him – and the supporters," said Howe. "If you're a betting man, there's no way you're ever putting money on Dan Burn's right foot opening the scoring in any game.
"The goal was actually a thing of beauty. Won the ball high up the pitch, and he's driven in with the ball, and what a finish with his right foot, because it was a tight angle. I'm delighted for him.
"He's here with his family, and his story's well known. Nights and moments like that make football what it is."
Burn also spoke about the "amazing" moment.
"I used to sit in the East Stand," said the defender. "You always want to score in front of the Gallowgate end. To do that in front of my family was amazing.
"I like to get forward, and it's entertaining watching a guy my size running into the box."