Newcastle United praised for 'clever' transfer call – leaves Eddie Howe with a big decision
After an impressive debut cameo for Newcastle United, Anthony Gordon is now pushing for his first start.
The 21-year-old has given Newcastle head coach Eddie Howe somewhat of a selection dilemma heading into Saturday's Premier League match at AFC Bournemouth (5:30pm kick-off) with Allan Saint-Maximin currently occupying the left-wing position and Alexander Isak now back in contention.
Howe has spent time working one-on-one with Gordon at the training ground this week and has hinted he would have no issue starting the young winger.
"A really positive debut last week," Howe said in his pre-match press conference. "The first impression you give the supporters is such an important moment.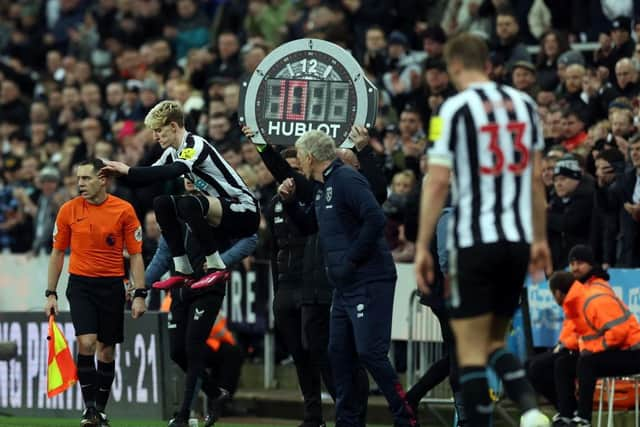 "I did some one-to-one work with him on Monday and he trained with the group the rest of the week. He's shown some really good signs."
Former Newcastle United and England midfielder John Barnes has also praised the club for being patient when it came to signing Gordon from Everton in January. Although he doesn't expect the £40million signing to walk into the United line-up.
"Newcastle needed a bigger squad, so that was why they signed him," Barnes told BonusCodeBets "He is a very good young English player and he brings a lot of energy and dynamism.
"I don't think he will walk straight into the starting line-up but it's a very good deal for Newcastle. Everton asked for a lot more money last summer, so I think that it was a clever decision by Newcastle to wait a bit."
Newcastle currently sit fourth in the Premier League table and will be looking to extend their unbeaten run in the top flight to 17 games this weekend.