Newcastle United star dismisses Liverpool 'excuse' – 'they do it every year'
Newcastle United aren't switching off from the Premier League for 'one minute' despite having the Carabao Cup final later this month.
Newcastle defender Fabian Schar insists the side's full focus is on Saturday's Premier League game against Liverpool at St James's Park (5:30pm kick-off). The Magpies go into the game 17 league matches unbeaten since they visited Anfield back in August.
Liverpool are the only team to have beaten Newcastle in the Premier League so far this season following Fabio Carvalho's 98th minute winner. Jurgen Klopp's side are also the only away team to have won a match at St James's Park over the past year.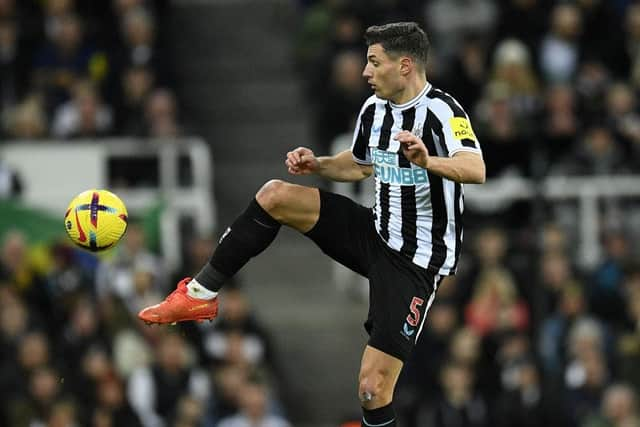 But after drawing five of their last six top flight matches, Newcastle are keen to get back to winning ways ahead of the Carabao Cup final against Manchester United at Wembley Stadium on February 26 (4:30pm kick-off).
"We know we need to get points in the Premier League and we can't switch off for one game for one minute," Schar said. "We know we have the cup final but we don't think about it.
"We think game-by-game and our focus was on Bournemouth now it is on Liverpool."
Schar was an unused substitute when Newcastle lost at Anfield back at the start of the season. Since then, Liverpool have struggled to reach the heights of recent seasons as they currently sit ninth in the table, nine points behind United in fourth.
But Schar isn't underestimating the quality of Saturday's opponents after their 2-0 win over Everton last time out.
"They are still more or less the same team so we know the quality," added the Swiss international. "I think obviously they are not in the position they want to be in or that they have been in last season.
"Games against these type of teams are going to be very difficult so we need to be at our best to get something."
It has been suggested that Newcastle have an advantage over sides like Liverpool this season due to a lack of European football – but Schar disagrees.
"I don't think so," he continued. "They have far bigger squads and they know how to handle all of this and they do it every year so I don't think it makes a massive difference."