Newcastle United's Carabao Cup opponents Manchester United were in a 'mess' – Erik ten Hag
Erik ten Hag bemoaned a "messy" Manchester United performance ahead of games against Barcelona and Newcastle United.
Ten Hag's side beat Leicester City 3-0 at Old Trafford yesterday, but the club's head coach wasn't happy with a "rubbish" first-half performance.
"I was really unhappy with our performance," said Ten Hag. "We have to follow the rules and principles from our way of playing. When you don't, it's getting a mess, and when you face a good opponent like Leicester, you concede chances.
"It was only due to David De Gea that we don't concede a goal, so we're really lucky in half-time to be 1-0 up. Of course, a great pass by Bruno (Fernandes), great finish Rashy (Marcus Rashford), but for the rest, it was rubbish.
"Second half we play like the principles and rules of the game from us, then we transfer the game plan and you see we are dictating the game.
"There are moments you need the keeper, and he (De Gea) had already many moments in this season when he was so important, that he saves points.
"That's his job, he knows that, but in the right moment, you have to do it.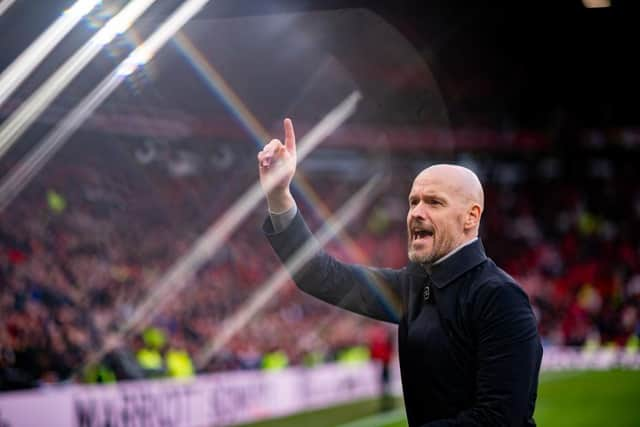 "Today, the team needed him, because it was a mess, and he did the job, and they were brilliant saves."
Ten Hag's side take on Barcelona in the second leg of their Europa League play-off at Old Trafford on Thursday – they lead the tie 2-2 – ahead of Sunday's Carabao Cup final against Newcastle at Wembley.