Rusty and cynical but clever – the Newcastle United return of Matty Longstaff, Paul Dummett & Ciaran Clark assessed
Newcastle United first-team trio Matty Longstaff, Ciaran Clark and Paul Dummett made their long-awaited returns from injury this week – and our writer Liam Kennedy was on hand to witness it.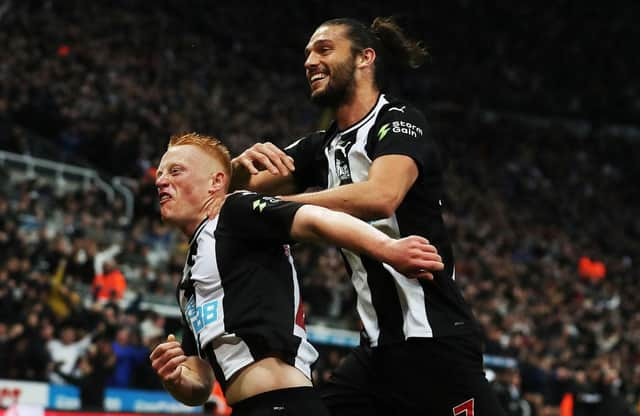 Matty Longstaff of Newcastle United celebrates with team mate Andy Carroll after he scores the only goal of the game during the Premier League match between Newcastle United and Manchester United at St. James Park on October 06, 2019 in Newcastle upon Tyne, United Kingdom.
The threesome were named in the Magpies' under-23 side that saw off Fulham 2-1 at St James's Park with Longstaff getting 45 minutes under his belt and the defensive pairing of Dummett and Clark 60.
So how did they do on return?
Matty Longstaff
Played: 45 minutes (replaced by Joe Oliver 46)
Not played since: July 15, 2020
Performance: Newcastle United know, due to the nature of Longstaff's injury, they have to take things easy with the midfielder. And watching the player in this one, it very much looked like he was easing himself back into action. The Longstaff of Premier League impact fame is tenacious, busy, who hassles constantly, with some perfectly timed runs into forward areas. This wasn't what we seen from the 20-year-old at St James's Park. He was operated primarily in the holding role at the base of the midfield and rarely ventured beyond those confines. At one point Longstaff produced the most cynical of fouls as Fulham looked to break at pace after a United corner went wrong. The call from the Fulham bench in a deathly silent SJP rang: "What a sh**h**se"
Paul Dummett
Played: 60 minutes (replaced by Lucas Gamblin 61)
Not played since: January 11, 2020
Performance: Still blonde and still Mr solid and dependable on the left-hand side of defence, it seems, although a little rusty at times. Dummett was caught out advancing a little high past Achraf Lazaar in the opening 45, only to be caught by the pace on the break of the Fulham forwardline. He misjudged one header – a clear sign of rustiness – but overall was a calming influence on the wing. The same can't be said of Lazaar in front of him, who looked out of shape and out of sorts.
Ciaran Clark
Played: 60 minutes (replaced by Bradley Cross 61)
Not played since: September 23, 2020
Performance: A leader from the back, as you'd expect from the experienced Republic of Ireland international. One line-breaking run from deep opened up an early chance – following a perfectly-timed through ball – for Yannick Toure but the young striker did not finish what his more seasoned teammate had done so well to create. Clark didn't have it easy, paired with marking big, physical Fulham frontman Jean Pierre Tiehi. And while he had to give up the odd challenge in the air, his street smarts meant he was able to make up for the lost inches. One outstanding first-half goal-saving block to deny Jayden Harris.