Scott McTominay makes admission about his future ahead of Newcastle United visit
Newcastle United transfer target Scott McTominay admitted he needs to 'start enjoying football' after a lack of starts at Manchester United.
McTominay could be handed only his second Premier League start for Man United since early October in place of the suspended Casemiro this Sunday against Newcastle at St James' Park (4:30pm kick-off). Despite a lack of club starts, the 26-year-old midfielder certainly made the most of the international break with four goals in two Euro 2024 qualifier matches for Scotland.
McTominay bagged a brace in the 3-0 win over Cyprus before doing the same in a 2-0 win over Spain on Tuesday night. At club level, he has scored twice in 32 appearances for The Red Devils in all competitions, though 19 of those appearances have been off the bench.
And during the international break, McTominay revealed he received a bit of a wake-up call from Scotland manager Steve Clarke.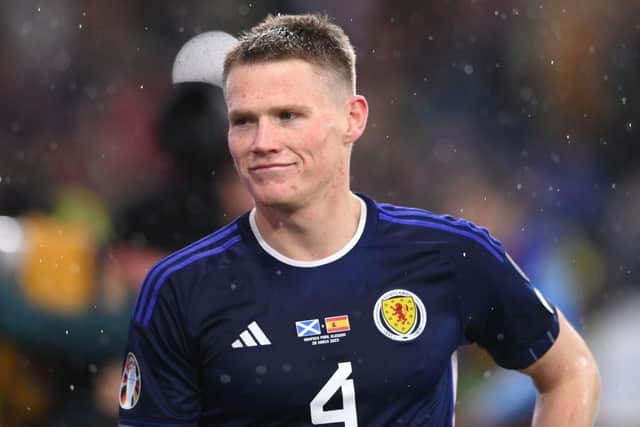 "You have to set high expectations for yourself," he told Football Scotland. "You can't just go into games hoping to do well. You must go in believing."I spoke to the manager and he said, 'I don't think you're playing with a smile on your face, and I want to see the smile come back out'. That was the first day I arrived [with the national squad] and I thought, 'do you know what, he is right'."I felt the smile did need to come back on my face, and I need to start enjoying football and playing like I love it."
McTominay will be hoping to kick-on during Man United's final 12 matches of the Premier League seasons as well as the club's FA Cup and Europa League campaigns.
With Newcastle looking to bolster their midfield options this summer, McTominay has been identified as a potential signing for Newcastle. Behind the scenes, head coach Eddie Howe and Newcastle's backroom staff are in agreement that McTominay would be an ideal addition to the club's midfield.
And his recent exploits at international level suggest just why they are so keen.
Newcastle will be hoping to beat Man United to Champions League qualification this season and will move above their opponents in the table should they win at home this Sunday.