Simon Jordan slams 'fake' Amanda Staveley after Newcastle United Carabao Cup defeat v Man United
Newcastle United co-owner Amanda Staveley was beaming with pride despite Sunday's Carabao Cup final defeat to Manchester United at Wembley Stadium.
Newcastle's first major final in 24 years ended in disappointment as Man United won 2-0. But Staveley remained adamant The Magpies will soon end their long trophy drought in style.
"I was so proud of all of the fans," she told talkSPORT. "Everybody. I was crying, my son was crying, we're all crying. But it was amazing, at 2-0 down, we had flags going. The passion from everyone, they've all taken us on this journey.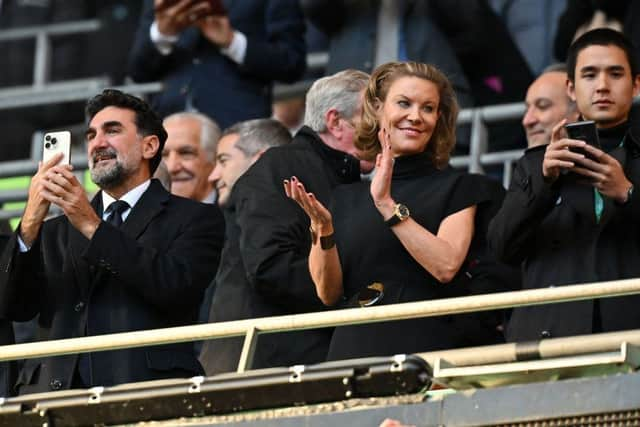 "This is all about the amazing fans who have taken us on this amazing journey. We're just honoured and humbled. We feel very privileged to run Newcastle."
She added: "We don't deserve the amount of support we have as owners. We're very humbled by what's happened today.
"Yasir [Al-Rumayyan] is here, we were so excited to come. Look at the scenes in Trafalgar Square last night.
"Next time, we will get there."
But talkSPORT pundit at former Crystal Palace owner Simon Jordan wasn't having Staveley's comments about Newcastle's support – labelling it as 'fake humility'.
"It's a PR spin," Jordan said. "You knew you were buying a football club that if you put it into a League Cup final you will inundate London.
"So let's dial down the fake humility and look at the reality of what you've got there. I think it's ridiculous a term and so you didn't expect it.
"You're the owners of a big club in England. I think it's ridiculous to turn around and say you didn't expect that. If I bought Newcastle and set the town on fire I would know that Newcastle getting to a cup final that London would be inundated, because they've got a remarkable fanbase.
"It's entirely appropriate that Amanda Staveley is patted on the back for the appointments that have been made by her and others, and [as a fan] if you cannot be behind what they're doing now at Newcastle, when in God's name would you be behind it?
"But let's get past the sentimental rubbish."