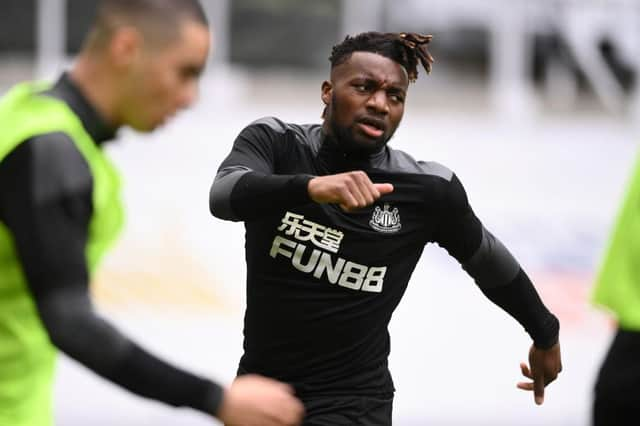 Allan Saint-Maximin of Newcastle United warms up prior to the Premier League match between Newcastle United and Arsenal at St. James Park on May 02, 2021 in Newcastle upon Tyne, England.
And the Stadium of Light hero believes Tottenham Hotspur would prove the perfect fit for the Frenchman, should he be allowed to leave Tyneside this summer.
Newcastle United head coach Steve Bruce has in recent days issues a 'hands off' warning in relation to ASM, claiming the club have no intention of selling their best players this summer.
That, however, will not stop rumours circulating about the 24-year-old, whose return from injury has inspired a sequence of results which has seen United edge close to Premier League safety. With four games to go United are nine points above 18th-placed Fulham.
And while Bruce is understandably keen to hang on to the player, who only signed a new, improved six-year deal in October last year, Phillips thinks it's only natural the vultures will circle when the transfer window opens for business at the end of the current Premier League season.
"There would certainly be at least a dozen teams in the Premier League who would take him," Phillips told Football Insider.
"You could see him going to Tottenham. From their point of view, he'd be a great signing.
"From a Newcastle point of view, you'd be devastated to see him leave. But naturally, when you're a star, everyone's looking at you."
Phillips believes this season has seen ASM improve massively.
Despite injury issues and contracting Covid-19 limiting his gametime for marge chunks of the 2020-21 campaign, Phillips thinks Saint-Maximin has now become the 'complete player'.
"He's so unpredictable and he's got great talent. Even though he had that injury problem, he's improved as the season's gone on," said the former SAFC, England, Southampton and Watford frontman.
"He's got that end product as well. He's turning into a complete player. This kid's got pace and the ability to drop a shoulder, turn this way and that."
Saint-Maximin has made 22 appearances for United this season in total, contributing three goals, the last of which was the winner at Turf Moor against Burnley last month.