Supercomputer predicts surprising Premier League finishes for Newcastle United, Manchester United, Leeds United and co
The new Premier League season is just two games old, but the supercomputer is already predicting a few shock finishes this campaign.
Published 19th Aug 2022, 12:00 BST

- 3 min read
Watch more of our videos on Shots!
and live on Freeview channel 276
Visit Shots! now
Newcastle have taken four points from their opening two games as they look for an improvement on last term's 11th place finish.
They face a huge test against Manchester City this weekend who, unsurprisingly, have been heavily-tipped to secure another Premier League title this season.
But what about the other 19 sides? Here, we take a look at the latest supercomputer predictions, courtesy of FiveThirtyEight, to see where Newcastle United have been predicted to finish the 2022/23 season.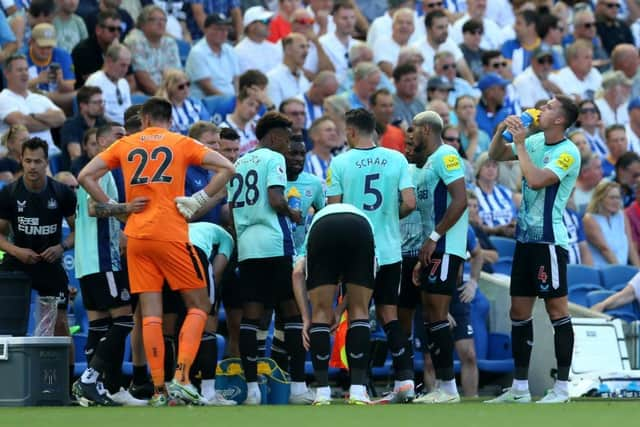 Predicted finish: 1st - Predicted points: 87 (+59 GD) - Chances of winning the Premier League: 59% - Chances of qualifying for the Champions League: 95%
Predicted finish: 2nd - Predicted points: 76 (+41 GD) - Chances of winning the Premier League: 18% - Chances of qualifying for the Champions League: 76%
Predicted finish: 3rd - Predicted points: 72 (+29 GD) - Chances of winning the Premier League: 10% - Chances of qualifying for the Champions League: 62%
Predicted finish: 4th - Predicted points: 68 (+25 GD) - Chances of winning the Premier League: 6% - Chances of qualifying for the Champions League: 48%
Predicted finish: 5th - Predicted points: 66 (+19 GD) - Chances of winning the Premier League: 4% - Chances of qualifying for the Champions League: 41%
6) Brighton & Hove Albion
Predicted finish: 6th - Predicted points: 56 (+4 GD) - Chances of qualifying for the Champions League: 15%
Predicted finish: 7th - Predicted points: 53 (-1 GD) - Chances of qualifying for the Champions League: 11%
Predicted finish: 8th - Predicted points: 51 (-1 GD) - Chances of qualifying for the Champions League: 9%
Predicted finish: 9th - Predicted points: 51 (-3 GD) - Chances of qualifying for the Champions League: 9% - Chances of relegation: 8%
Predicted finish: 10th - Predicted points: 49 (-5 GD) - Chances of qualifying for the Champions League: 7% - Chances of relegation: 10%
Predicted finish: 11th - Predicted points: 49 (-5 GD) - Chances of qualifying for the Champions League: 6% - Chances of relegation: 10%
Predicted finish: 12th - Predicted points: 48 (-7 GD) - Chances of qualifying for the Champions League: 6% - Chances of relegation: 12%
Predicted finish: 13th - Predicted points: 46 (-9 GD) - Chances of qualifying for the Champions League: 5% - Chances of relegation: 15%
Predicted finish: 14th - Predicted points: 44 (-12 GD) - Chances of relegation: 20%
Predicted finish: 15th - Predicted points: 42 (-18 GD) - Chances of relegation: 23%
Predicted finish: 16th - Predicted points: 40 (-18 GD) - Chances of relegation: 29%
Predicted finish: 17th - Predicted points: 39 (-20 GD) - Chances of relegation: 33%
Predicted finish: 18th - Predicted points: 39 (-24 GD) – Chances of relegation: 34%
Predicted finish: 19th - Predicted points: 37 (-26 GD) - Chances of relegation: 39%
Predicted finish: 20th - Predicted points: 35 (-30 GD) - Chances of relegation: 47%