The sore Newcastle United heads after extraordinary Trafalgar Square scenes
About last night. There were more than a few sore Geordie heads in London today ahead of the Carabao Cup final.
Thousands of Newcastle United fans descended on Trafalgar Square after arriving in the capital. The square was a sea of black and white from late afternoon as supporters celebrated the club's first final in almost 24 years.
Fans were perched on the base of Nelson's Column and every other vantage point. Supermarkets and off-licences around the square ran dry, while every bar and pub within a mile was packed.
The mood was jubilant, and why not. After 14 years of mediocrity under Mike Ashley, the club is again competing for trophies. There's a lot to celebrate, with the club, fighting relegation a year ago, also fifth in the Premier League.
Newcastle, of course, are one of the last clubs out of the 92 to play at the rebuilt Wembley, though the team did play Tottenham Hotspur at the stadium in the Premier League.
Reaching the final is a cause for celebration, but Eddie Howe and his team aren't content with that. They want to win.
The club hasn't won a major trophy since 1969, and it's last domestic success was the FA Cup final victory of 1955.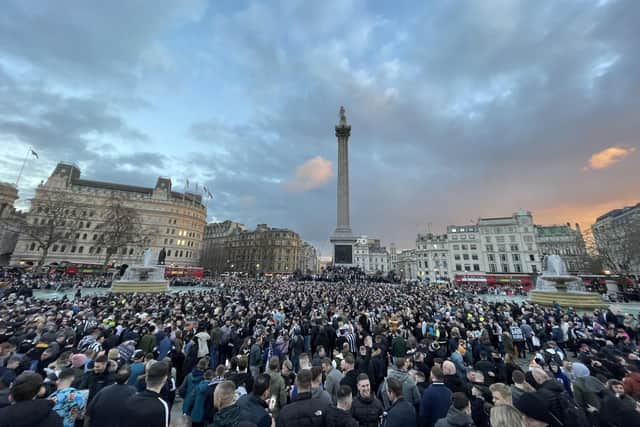 United's new owners want the club to be competing for bigger trophies in the future, but winning a first piece of silverware for several generations will be so important to the club.
After the celebrations of last night at Trafalgar Square, it's now about what the team does on the pitch at Wembley later this afternoon. Bring it home.