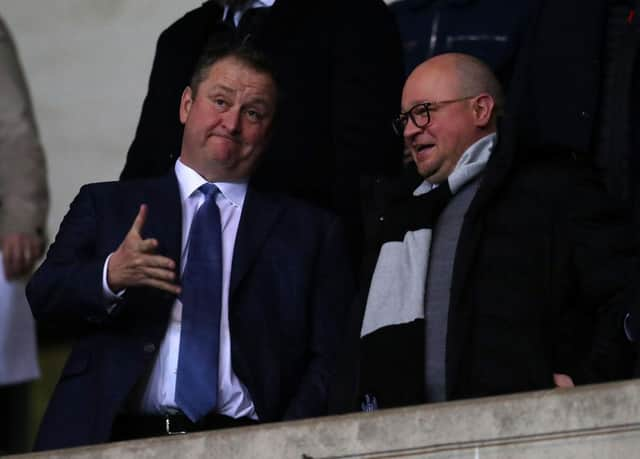 Newcastle United owner Mike Ashley and managing director Lee Charney, right.
Would-be buyers have come and gone since Mike Ashley put the club up for sale in October 2017.
Saudi Arabia's Public Investment Fund (PIF) is at the table now, but, crucially, there isn't yet an agreement in place.
Fans have seen it all before – and Ashley is yet to see any money on the table – but PIF, unquestionably, have the funds to do a deal.
But at what price? That, seemingly, is the question.
Ashley, we know, has been looking for upwards of £300million for the club he bought 14 years ago. However, is it saleable at that kind of price amid a lengthy coronavirus shutdown?
And that's the thing, the timing is strange given that the all football is suspended for the foreseeable future. The Premier League would have to repay a huge sum to TV companies if this season can't be restarted, and that, surely, will need to be factored into any final price.
If PIF are expecting to get a steep discount, they are likely to be disappointed.
The latest takeover reports were greeted with scepticism on Tyneside. And, it seems, Ashley and the club's hierarchy remain sceptical about the ability of financier Amanda Staveley, working with PIF, to push through a deal.
As ever, Ashley – whose willingness to sell United has long been questioned – wants to see money on the table, and it hasn't got to that stage yet.
Talks are ongoing, and it may well be a case of when, not if, PIF agree a deal to buy the club. That said, we've been here before – and nothing happened.