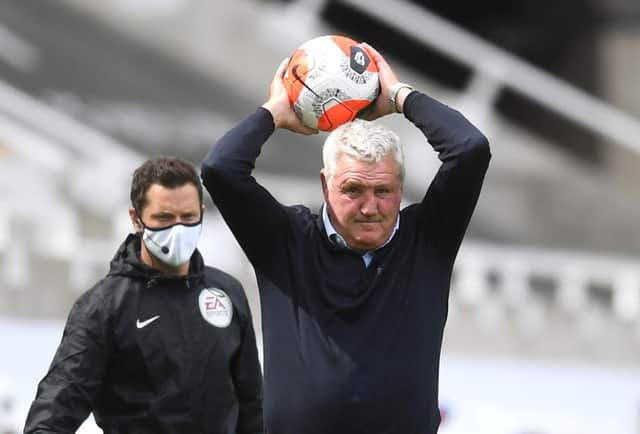 Steve Bruce.
And Bruce, United's head coach, knows that if the deal is given the go-ahead, he may not be in charge next season.
The club's prospective new owners have been linked with moves for former manager Rafa Benitez and out-of-work Mauricio Pochettino.
Asked if he expected to be in charge next season, Bruce said: "Thankfully, I've been in it a long, long time and I've had takeovers at two or three other clubs as well.
"As I've repeatedly said, whatever's best for Newcastle, I'm OK with it. If that's the best thing for Newcastle to move forward, then that's OK with me.
"Will I be Newcastle manager next year? I sincerely hope so.
"I really have enjoyed the challenge of this great club of ours, so I can only plan ahead, and presume and make sure that we still do the work we were going to do and how we're going to come back, when we're going to come back and all of those things.
"Of course, when the transfer window opens ... what can we do to improve the squad going forward? So I'll just carry on, soldier on, and get on with it."
"The average over the last five seasons has been something like 42 points, what the club has achieved, so we have given ourselves a wonderful opportunity to be better than what we've averaged over the last five years," said Bruce.
"That's got to be the am for them. We've got to try to finish as strongly as we possibly can, but the Premier League is unforgiving. Our form has been decent since we've changed to a back four, so let's hope that keeps improving."