Youngster catches Newcastle United coaches' eye as defender targets first-team opportunity
Newcastle United youngster Oisin McEntee is keen to keep impressing the club's coaching staff after taking part in first team training last week.
By Mark Carruthers
Published 25th Feb 2020, 11:45 BST- 2 min read
Updated 25th Feb 2020, 11:45 BST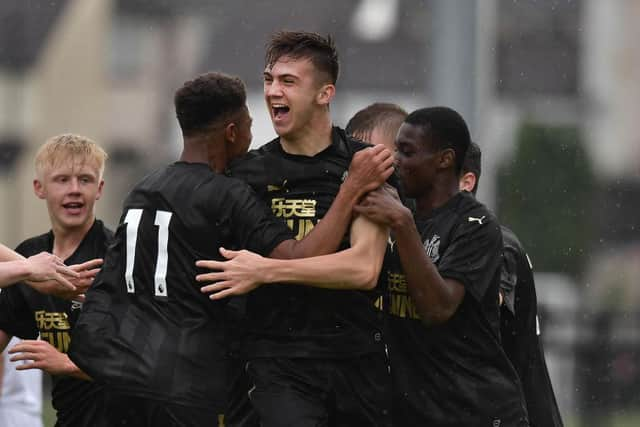 And he rounded off a memorable few days when he scored his side's sixth goal in their 6-2 Premier League Cup win against Scunthorpe United at Whitley Park.
The big defender has become a key figure in the clubs second-string but is now keen to spend more time learning from United's senior men.
He told The Gazette: "It's been a great week for me personally.
"The intensity up there (at first team training) is crazy, it's proper high and it's brought me on a lot.
"You look at them (senior players) and try to do what they do because they are making it in the game.
"Matty and Sean (Longstaff) have been brilliant and any time I go up there, they have helped me out.
"They are doing very well for themselves and you just try to do what they are doing.
"It lets you know that there are chances for young players, and you are trying to get up there and get one."
McEntee will be back in Under-23s' action on Friday night when Chris Hogg's side travel to Heritage Park to face their Middlesbrough counterparts.
It has been a mixed season for United's youngsters, but they have started to find some form in recent weeks.
A Friday win over Boro would see them move to within a point of the Premier League 2 Group 2 play-off places.
And they have two chances of landing silverware after they progressed to the Northumberland Senior Cup semi-final and the knockout phase of the Premier League Cup.
McEntee revealed that he is looking forward to a hectic end to the season."
"I think it would be great to get some silverware and that is our aim," he said.
"We have a lot of games coming up and we want minutes and we want game-time."