Sunderland boss Lee Johnson slams EFL with Shrewsbury Town game now in doubt after Covid-19 outbreak
Lee Johnson said Sunderland were let down by the EFL, after drawing 1-1 against AFC Wimbledon despite having eight players ruled out due to a COVID-19 outbreak.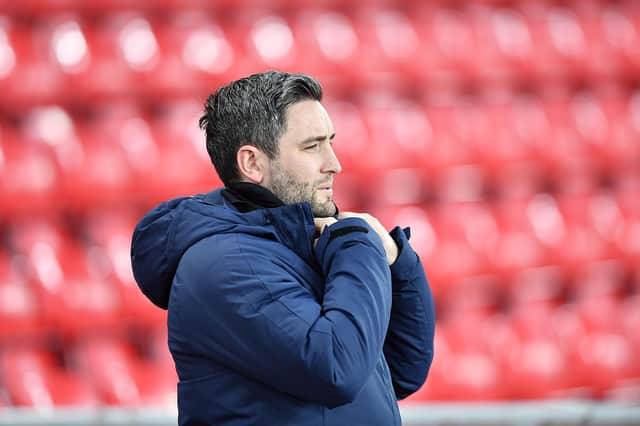 Lee Johnson says Sunderland have been 'let down' by the EFL
Sunderland had one positive test on Tuesday, forcing seven others to self-isolate, with two of those displaying symptoms.
The Black Cats could have opted to postpone the game, as Bristol Rovers did today following an outbreak of their own.
However, they were told that doing so would lead to an EFL investigation, and a potential sanction.
Johnson said a lack of clarity around that left Sunderland feeling they had to play, forcing him to select a number of players short of full fitness in his squad.
"That game should have been called off," Johnson said.
"There's no doubt in my mind. It was dangerous for the players who played in terms of the injuries, the U23s played yesterday.
"It's great Mitch [Curry] got his debut yesterday but he played 90 minutes yesterday.
"The team was changing by the hour and I can't help but be angry and frustrated. I'm not 100% sure who I should be angry at because i had to control the controllables and focus on the ones who could play.
"I don't think we got any help or clarity from the EFL.
"You see the likes of Bristol Rovers who cancelled their game in very similar circumstances, but the threat of a sanction was too much for us to risk.
"That was the bit that was very unclear and very unhelpful from the EFL.
"It was very difficult to make a decision on safety and I feel they've let us down.
"We asked the EFL for permission to postpone the game, and were told 'If you postpone the game you will be up for sanction and you will be investigated'," he added.
"There was then a lack of clarity on exactly what that investigation entails, and the threat of having to potentially forsake the game and give the three points up to Wimbledon, we weren't willing to take.
"Don't forget, it was all very quick and rushed. We've got our players' safety to think of, and the safety of the players from Wimbledon as well as the staff.
"The truth is that we just don't know how bad or good things are in terms of the best-case scenario or the worst-case scenario."
Johnson said the club would hold their own investigation on the outbreak, but said he was left frustrated by the lack of clear protocols from the EFL so far into a season so clearly affected by the pandemic.
"There should be much better protocols in place," he said.
"It's frustrating. As a football club, we need a post mortem because we need to understand how one positive test can have such a catastrophic impact in terms of the numbers around it.
"There has been one external employee who has gone down around it – I won't elaborate any more than that – so there's effectively two positive tests, and that has expanded the reach zone even further.
"If the Bristol Rovers one is the same circumstance, then if they get off scot free, somehow we've been tucked up.
"If they get deducted the points, then this becomes a good point because we've played the game and hustled with players who aren't fit.
"I can only stand and be honest. It's a mixture of emotions that's all flooding out, whereas before the game it was a steely focus on doing the job."
Sunderland's game away at Shrewsbury is now in doubt, with Johnson saying his preference would now be test everyone at the club.
The EFL have not demanded mandatory testing in the lower leagues this season, which did happen when the Championship returned to action in the summer.
"I don't know 100% [what happens to Saturday's game]", Johnson said.
"My guess would be the six or seven [self-isolating], they've been tested so it will depend on that in the first sense.
"Beyond that, I think it's wise to probably test anyone but I'm not a doctor.
"No one is hiding from performing in matches, but it's got to be safe for both teams."
Johnson was asked whether Sunderland would no consider shutting their training ground, as had happened at Newcastle United following a recent outbreak.
"Shutting the training ground has to be a consideration," he said.
"It has to be. It's depend on how the tests come back. Obviously we know what happened at Newcastle, although the Premier League runs on very different protocols.
"The consistency of the testing, which was the same in the Championship, becomes an important part of it. Obviously the funding hasn't been there, and that's what I'm saying.
"The EFL won't give you the funding to do the testing, but then at the same time, they won't help you out when there's a circumstance that happens.
"It's almost like we've been punished for doing the right protocols.
"That's how it feels. I'm saying, 'If you're going to make us play, then the ones that weren't COVID-19 should be allowed to play'. The ones that have been left out by association.
"That for me is the most frustrating bit. To get the three points in this game, we'd have been better off telling people to pretend they were 30 yards away from people. But we haven't. We've done it properly, but then we haven't been helped out."