'What are we doing to the game of football?': Ipswich Town boss fumes at key Sunderland call
Paul Lambert hit out at two 'absolutely incredible' decisions in Ipswich Town's 2-1 defeat to Sunderland.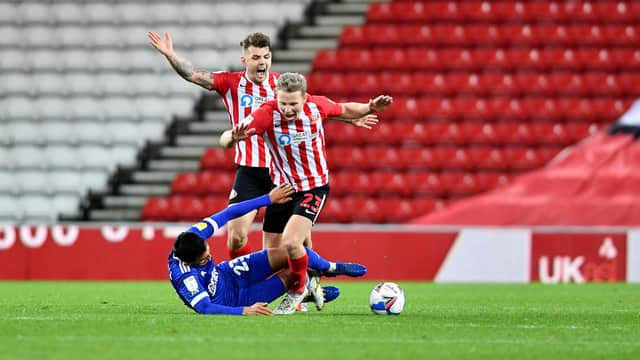 The game was finely poised at 1-1 when Andre Dozzell was shown a red card for a challenge on Grant Leadbitter midway through the second half.
Leadbitter then scored the winner after Mark McGuinness was penalised for a handball in his own box.
McGuinness was struck by a clearance from his team-mate and Lambert said the penalty should not have been gien.
"Anybody looking at the [red racrd] incident has got to have the common sense to rescind that," Lambert said .
"That wasn't, in a million years, a sending off. The actual foul is on Andre himself.
"And with the handball, well the Eric Dier incident [the Tottenham Hotpsur defender was penalised for handball against Newcastle United] a few weeks ago actually changed the laws of the game.
"If you're not looking at the ball, and Mark McGuinness wasn't, then it's not a penalty. I mean come on, what are we doing to the game of football? What game are we actually playing? That was incredible.
"It was only spoken about a few weeks ago about those not being penalties. Even the Sunderland lads were saying to me after the game that it wasn't a penalty. They never even appealed!
"Why has Eric Dier's incident changed the game for the Premier League and not us? Surely it must filter down? Have we got different rules to the Premier League? Is that what we're saying?
"Honestly, I'm hot and angry about it because the guys gave me everything. We were brilliant. We're sitting second, we're in a really good position and confidence is incredibly high. We deserved to win the game.
"I thought we were excellent," Lambert added.
"We played some really cracking football. I'm really pleased with the way the guys are playing, but the two incidents I thought were absolutely incredible.
"We were really good, we played some really good football and Jack should have put us 2-1 up. We were so comfortable. The movement of the guys, the speed of the ball, the football we are playing, I'm really proud of them and I've just told them that in the dressing room. Long-term the football club is going really well and will be in a really good place in years to come."
Sunderland boss Phil Parkinson disagreed with Lambert's assessment, saying that referee Peter Wright had got both decisions correct.
"At the time I thought it was a bit soft, but when you watch it back, he has rolled his foot over the ball and caught Grant," Parkinson said.
"If that's the Premier League, I think VAR gives a red card.
"He has caught Grant, who isn't going to go down unless he's caught.
"I said it was harsh at the time, but I think he has rolled his foot over the ball.
"The penalty, I don't think there can be arguments.
"It hits him on the arm, a clear penalty."