Pop hits and Broadway musical classics to ring out in free show at The Word
Pop classics and tunes from blockbuster Broadway musicals will ring out from The Word in a free singing extravaganza this weekend.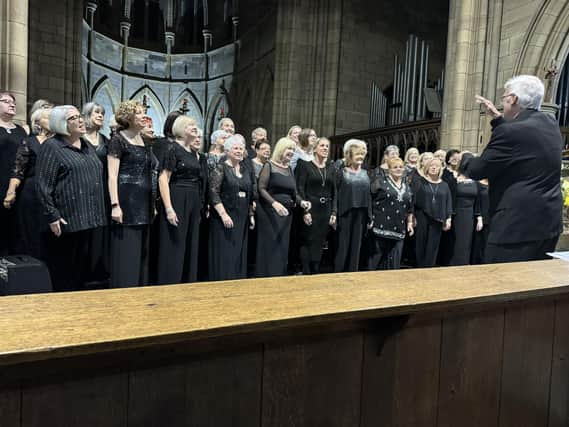 The South Shields venue plays host to two talented a cappella choirs and their guests singing hits from the likes of Queen, Coldplay and Whitney Houston in a relaxed musical experience for all the family.
The event takes place on Sunday, October 22, from 1.30pm and will showcase the talents of Compass Acapella, a 40-member strong choir based in South Tyneside, primarily consisting of male voices. Joining them will be their 'sister' chorus Tyneside A Cappella, a female group boasting more than 50 members, with special guests Enigma and Paradox.
The novel initiative, conceived by Compass's musical director Susan Jones, aims to spotlight the singing talent from both sides of the river.
"The harmony showcase is free for everyone to come along and enjoy," says Susan. "Attendees also have the chance to not only listen but also interact with the choir members and musical directors, learning more about joining these melodic ensembles."
Peter Jones, the musical director of Tyneside A Cappella said: "It'll be a fun afternoon. Our respective repertoires span an eclectic mix of songs, ranging from iconic tracks by Queen, Abba, Simon and Garfunkel, to ballads by Elbow, Whitney Houston and Coldplay, and enchanting melodies from musicals like Les Misérables, Moulin Rouge and The Greatest Showman."
Both Compass Acapella and Tyneside A Cappella promote a common passion for music and are committed to enhancing the community's musical fabric through their fundraising for local charities and good causes.
The event at The Word, in Market Place, aims to not only celebrate the joy of people from all walks of life singing in harmony, but also to highlight the spirit of community and artistic exploration that defines the Tyneside region.
Organisers hope the performance will be a testament to the power of music in fostering connections and creating memories that resonate long after the last note fades away.
Compass Acapella is currently on the lookout for new members, particularly tenors, including men with higher voices or women with lower voices. Rehearsals are held every Tuesday evening at 7.30 at Cleadon Academy on Boldon Lane, Cleadon, SR6 7RP.