Staff weep tears of joy after South Shields nursery judged outstanding by Ofsted for third time in a row
Director of Whizz Kids Childcare, Angela Pino, said staff "wept tears of joy" after Ofsted judged the nursery to be outstanding in all areas following their latest inspection.
Published 12th Jan 2023, 04:55 GMT

- 2 min read
Inspectors described the nursery, which is located at Westoe Road Baptist Church, as a "very friendly and welcoming setting" in which the children are "happy, settled and secure" and praised the kind and caring staff for the "superb relationships" established with the children.
Angela said: "We are absolutely delighted with the outcome as this is our third consecutive outstanding Ofsted. I think the staff knew the outcome before I officially told them as they could here my screams of excitement after I was told the judgement.
"When I told the staff, there were a lot of happy tears of joy. I'm really proud of what they have done."
Lead inspector Julie Foers praised the nursery for its "outstanding" development of children's literacy skills and the staff's understanding of how children develop.
She said: "All staff show an excellent understanding of how children learn. The quality of their interactions with the children is superb. Staff plan excellent support for children's physical development.
"Children are curious and excited as they play memory games with staff. They are enthusiastic and motivated to learn. For example, children are fascinated to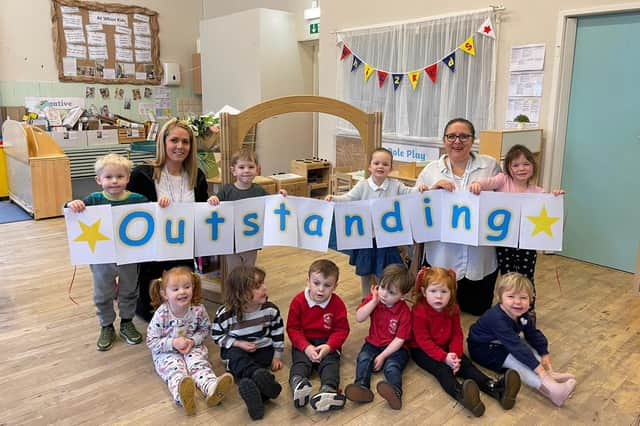 find their homes on maps to ignite their curiosity about where they live.
"Support for children's developing communication and language skills is outstanding. Staff model language and support children to extend their sentences. They ask detailed questions, leaving plenty of time for children to respond."
It is these two "key areas" which Angela was "most pleased" were recognised by inspectors.
She said: "Communication and development of children's language is so important and so it was fantastic the inspectors said this was outstanding. I'm also really pleased with the comment about our 'excellent understanding of how children learn'.
"With the disruption of Covid, there has been a lot of hard-work putting things into place to ensure the best outcomes for our children and I'm delighted this has also been recognised."
The report also highlighted parents speak "very highly" of the setting, saying that staff are "incredible, professional, loving and kind".
The nursery currently has funded places for two and three-year-olds. For further details call 01914279359.