How to transform your bedroom for better sleep
If you struggle to switch off, Panda London's dreamy bamboo duvet can help make your bedroom a haven of calm at the end of the day.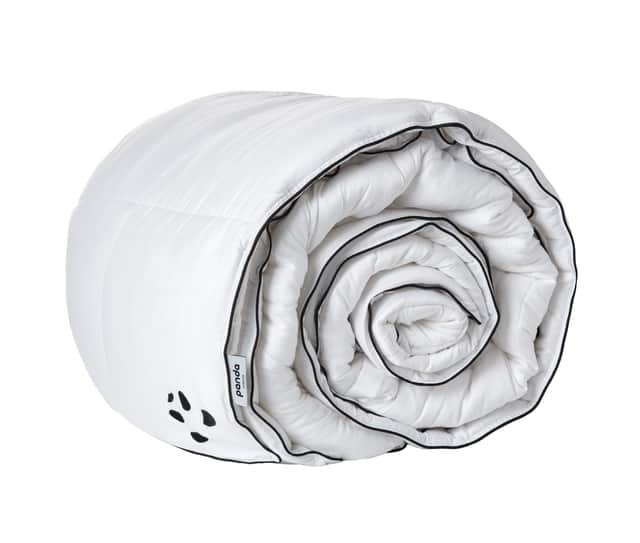 Time to cool off – and sleep better… its unique temperature-regulating properties make a bamboo duvet the best solution for hot sleepers
If you want to improve the quality of your sleep, there are a few simple steps you can take to transform your bedroom into a tranquil oasis.
Keep your bedroom nice and cool to help keep a clear head at bedtime; if the weather is sunny, it can help to keep blinds and curtains drawn during the day.
Do you have night sweats or hot flushes? Bamboo's temperature-regulating properties make The Cloud duvet the best solution for hot sleepers
Avoid overhead lighting and don't use lamps that are too bright to keep the overall ambience calm and relaxing.
Avoid loud noises or music before bedtime as it can get your adrenaline pumping; opt for chilled out or classical tunes if you want to listen to something to unwind.
It's a good idea to avoid checking messages or emails for at least an hour before you want to sleep – and avoid watching television or screens in bed. But if listening to a podcast or soundscape helps you to drift off then don't hide your phone away: instead switch on 'do not disturb' mode.
The right bed and bedding can help you to chill out from the minute you slip between those super soft and comfy sheets – and Panda London has a range of dreamy duvets, covers and mattress toppers to help you unwind.
If you're looking for the ideal bamboo duvet to make your bed incredibly inviting, Panda London's amazing Cloud duvet offers a lightweight covering to keep you cool and help your body breathe.
The company has harnessed the power of bamboo to bring the freshest, softest bedding to your bedroom this summer – and The Cloud is a dream all year round as the bamboo fabric helps you to stay at exactly the right temperature.
With a 100 percent bamboo cover finished with stylish black piping, it is luxuriously soft and naturally hypoallergenic, making it perfect for allergy and sensitive skin sufferers along with anyone who wants a blissful night's sleep snuggled under the softest, most luxurious quilt.
With their Cloud duvet, Panda London have replicated the feeling of a down duvet which moulds to your body without a feather in sight. The filling is 50 percent bamboo and 50 percent Nano-Microfibre™ (made from recycled water bottles).
With its strong, silky fibres, bamboo is naturally softer and fluffier than the finest Egyptian cotton, and it gets softer every time you wash it. The Cloud is easy to machine wash and dries naturally in half the time of regular duvets, bouncing back to its original shape. Plus it can be washed at low temperatures and dry rapidly without the need for fabric softeners or ironing, making bamboo bedding a low-energy option too.
Bamboo is the world's fastest-growing plant – growing up to three feet a day – but only needs one-third as much water as cotton, plus it releases 30 per cent more oxygen than hardwood trees.
Panda London, which offers a range of highly rated bamboo homeware products, is on a mission to be as eco-friendly and provide the highest possible standard of products. Not only is all its bamboo sourced from approved forests, but Panda London is working as hard as it can to reduce the environmental impact at every stage of its products' lifecycles, from the forest to your front door.
Optimise your bedroom for better sleep with the help of a bamboo duvet that is supersoft to the touch and breathable.
See the full range of bamboo bedding products including 100 percent bamboo bedding, towels, mattress toppers and pillows at https://mypandalife.com