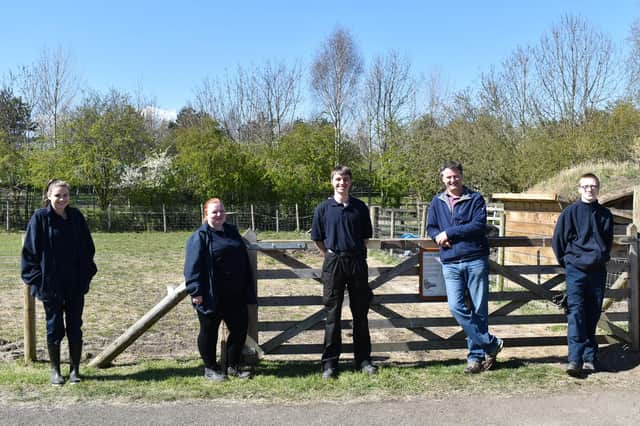 From left, Amy Hall, Chloe Selkirk, Daniel Hayward-Pattinson, Groundwork chief executive Andrew Watts, and Kyle Johnson.
Groundwork South and North Tyneside has already taken on Amy Hall, Chloe Selkirk, Daniel Hayward-Pattinson and Kyle Johnson to undertake jobs – including environmental tasks in the borough as town rangers, promoting the heritage sites, tending woodland sites and working at the organisation's Jarrow Hall site.
The posts have been created through the Government's Plan for Jobs Programme, and Groundwork, in partnership with South Tyneside Council, is using the Kickstart scheme to support job opportunities 30 people aged from 16 to 24.
Under the Kickstart scheme, young people will be paid the minimum wage for their 25 hours work, with the programme providing work experience, training, personal development and employment coaching for six months.
Andrew Watts, chief executive, Groundwork South and North Tyneside, said: "Groundwork has collaborated with partners such as the South Tyneside Council, Education and Skills Funding Agency, South Tyneside Homes, Connexions and other third sector organisations, to develop employment and training opportunities over the past three decades.
"The new Kickstart programme provides a great opportunity to develop new employment during these difficult times."
He added: "Young peoples' employment opportunities have been significantly impacted by the pandemic and we are really pleased to provide these new roles which are much required to help young people to develop new skills, obtain work experience and meet their future aspirations."
Young people, aged 16-24, interested in one of these positions, should ask at the Job Centre for information on how to apply for the programme.