Traders devastated after blaze at Denmark Centre less than a fortnight since reopening
Traders have spoken of their devastation after a blaze at a shopping arcade, which police are treating as linked to a suspected break-in.
Thursday, 22nd April 2021, 3:24 pm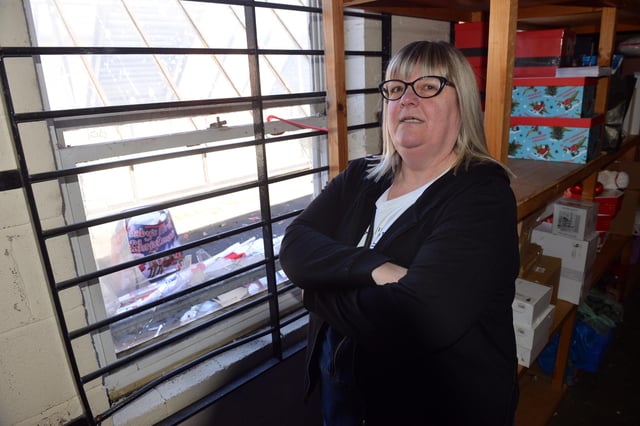 Cardstation employee Diane Hatch in the upstairs stock room of the shop, which has had two of its windows smashed in the early hours of the morning.
Denmark Centre traders have been left 'devastated' at having to close their doors once again just days after reopening to customers following the easing of lockdown rules on April 12.
Cardstation, owned by Pam Mullen and Joy Luther, said two of their upstairs stockroom windows had been smashed around the same time of the fire.
The co-owners said it appeared that intruders had stolen some Christmas decorations and stock, although the amount taken is not yet clear.
Joy, 50, who has run the shop for three years with Pam, said: "We got a phone call at 6.16am on our way to work saying that there had been a fire and that two windows upstairs had been smashed.
"There are bars across the windows so you can't get stock out but they have pulled what they can out.
"The centre is a right mess. The glass [roof] has completely blown off, there is so much damage.
"We have just reopened after lockdown and now we have had to close again.
"We're not able to trade until it is safe to do so but we don't know how long that will be."
In the meantime Cardstation have been serving customers with pre-orders for the likes of balloons via their back door.
Co-owner Pam Mullen, 66, said the fire has come as a huge blow to the business.
She said: "When I walked in it was a shock to see it [the damage to the centre].
"When we opened the shop it smelled of smoke and two windows had been smashed.
"We are an independent business and with lockdown we have not long been reopened."
Cardstation shop worker Diane Hatch, 55, said there have been three break-ins in three years at the shop and called for more security.
"I think it is an absolute disgrace," she said.
"It's just upsetting. We have just reopened after lockdown and then this happens.
"People have no respect for other businesses."