Meet the head chef ensuring firefighters are well fed in Washington
Stefano D'Oca has worked at Tyne and Wear Fire and Rescue Service for more than 20 years.
The Tyne and Wear Fire and Rescue Service (TWFRS) always deserve recognition and praise for providing their service to the local community. They have shown time and time again why their extremely important service is needed and appreciated by all in Tyne and Wear.
But there are those who work behind the scenes that also deserve acknowledgement for their hard work and dedication to the important emergency service.
One of those individuals is Stefano D'Oca, the head chef at TWFRS, who has worked for the service for more than 2- years.
66-year-old D'Oca, has worked in the catering industry for 50 years, in kitchens across Europe.
The Sicily native became an apprentice chef at the young age of 16-years-old, having grown up in a culture of good food and family. He began his career working in hotels in Italy, before moving on to provide food for over 10,000 soldiers of the Italian Army.
D'Oca's career then took him to Switzerland, working in the kitchen of a 5-star hotel, before moving again, this time to the UK capital, to cook in London restaurants.
He then began working as a head chef in the North East, at city centre restaurant The Italian Job and Francesca's, which is located in Jesmond.
But for the last 20 years, D'Oca has ensured that the firefighters of TWFRS are well fed at their Service Headquarters in Washington.
D'Oca said: "My childhood was based around taste and smell. Italian cuisine is the best in the world. It is simple, local produce, all about flavour.
"When I first joined the fire service it was at the old headquarters in Newcastle city centre and I wanted that work life balance."
Alongside his work in the kitchen in TWFRS, D'Oca has also worked in the high-pressure kitchens at Wimbledon's Centre Court, providing exclusive guests with delicious cuisine.
D'Oca said: "I love food and I love being a chef. I think it's like being an artist. You look at a piece of food and you produce a picture on the plate."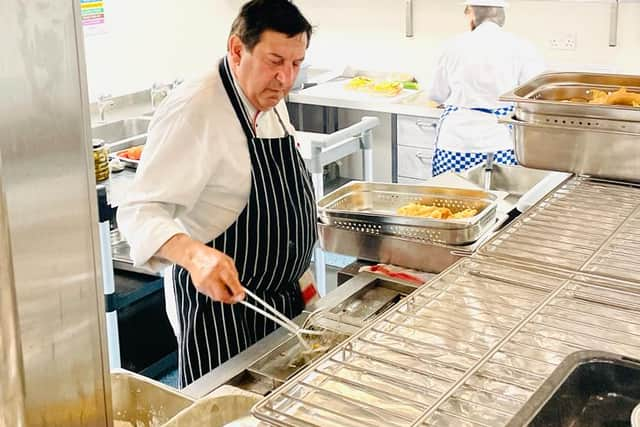 TWFRS are now looking for another chef to join D'Oca's team in the Washington headquarters.
D'Oca said of the new 18.5 hour position: "We have fantastic facilities and are well supported by management.
"It is a great organisation to work for and this is an exciting opportunity to be part of the team."
To apply for the position, please visit the Work For Us section of the Tyne and Wear Fire and Rescue Service website.
Read South Tyneside's news on the go with our free email newsletters - bringing the headlines to your inbox. Catch up on the day's news and sport and enjoy even more from your Gazette. Visit our website here to find out more and sign up.