Chris Packham - Is it Time to Break the Law review: Chris Packham's frustration and anger about climate change inaction is palpable and timely, but he soft-pedals his backing for any real law-breaking
In a week in which the Prime Minister pledges to row back on a raft of his Government's green policies – from delaying the ban on sales of new petrol and diesel vehicles to scrapping plans to force landlords to improve the energy efficiency of their homes – a new documentary on Channel 4 seemed particularly timely.
Watch more of our videos on Shots! 
and live on Freeview channel 276
Visit Shots! now
Chris Packham: Is It Time to Break The Law (Channel 4, Weds, 9pm) saw the TV presenter and conservationist – perhaps previously better known for his apparently cosy shows extolling the virtues of British wildlife – attempt to answer his own question.
In a time of extreme climate crisis, Packham pondered, is it right to continue with working inside the law – lobbying Parliament, voting for the 'greenest' candidates, maybe a polite demonstration – if the issue is continually ignored, marginalised or derided by the people in power?
"There is nothing that is working," Packham said. "How far do we need to go. How far can I go? Unfortunately, I've got to do something."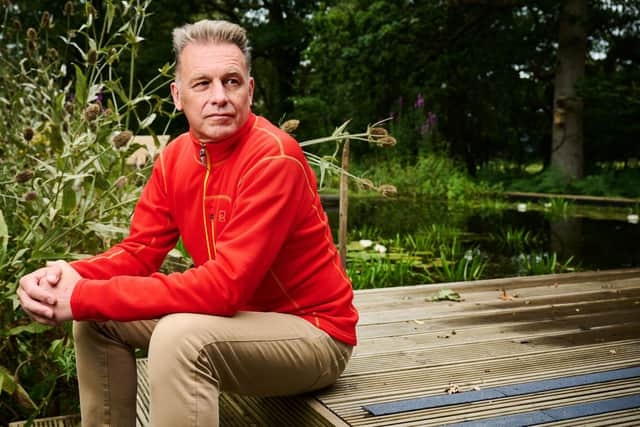 Over the course of the next hour, he visited all the usual suspects – from Just Stop Oil to Greta Thunberg to Andreas Malm, a more radical climate activist who had written a book called How to Blow Up a Pipeline: Learning to Fight in a World on Fire.
Malm was a particularly interesting interviewee. A man who believed that the only way to change something was to take direct, possibly violent, action, he tempered his views by suggesting that Just Stop Oil's slow-moving roadblocks and bridge closures were the wrong tactic, targeting the wrong people.
It wasn't the working person getting stressed about the commute to work who held the levers of power, Malm said, but the big corporations using most of the world's resources, and it is they who should suffer from any direct climate protest.
He said: "It's a very centralised and powerful segment of society that hold the key decision-making power in its hands, and it's them who we need to go after."
But he also suggested that the type of action a person takes is a personal choice – that there's no right way to take action, only what you personally are prepared to give.
And that's the dilemma Packham wrestles with in this documentary – exactly how far is he personally prepared to go?
Roger Hallam, the co-founder of Just Stop Oil and Extinction Rebellion, suggests Packham is the best way of finding that "trigger event" in any long-running activist campaign which tips public opinion from anti to pro.
One parallel would be the campaign for women's suffrage in the early years of the 20th century. The Suffragists had not got very far working within democratic norms, so the Suffragettes decided to take direct, often violent, action – culminating in Emily Davison dying under the hooves of the King's horse at the Epsom Derby in 1913.
There is doubt surrounding Davison's motives for entering the racetrack that day, and the outbreak of the First World War the following year was a bigger driver for change, but historians see the incident as a turning point in the campaign.
And that's what Hallam was suggesting – not dying at the Grand National or anything, but the grand gesture, Packham taking the role of sacrificial lamb. Getting "banged up" in Hallam#s words.
This was a deeply personal documentary, and burned with Packham's sense of righteous fury. That's not to say it didn't get a bit sixth form media studies project at times – a sequence at the end saw Packham pondering, finger gently resting on chin, as the camera swirled around him and a voiceover replaying earlier clips symbolised the tumult going on in his mind.
And if you were expecting him to actually take action at the end, you would have been sorely disappointed – he did swing behind the idea of a more illegal form of protest, even if he soft-pedalled his support somewhat.
"If you are an activist that's made the decision that, yes, we are going to break the law – so long as no one is hurt, and there's no lasting environmental damage – then you'll have my support.
"I now consider it the ethically responsible thing to do."
And so we await the next documentary, presumably filmed on Packham's release from prison. In the meantime, it seems like an important step in the evolution of climate protest. A mainstream, widely-popular personality actually backing illegal, direct action.
Whether it will actually change anything, however – in this week particularly – seems more unlikely than ever.