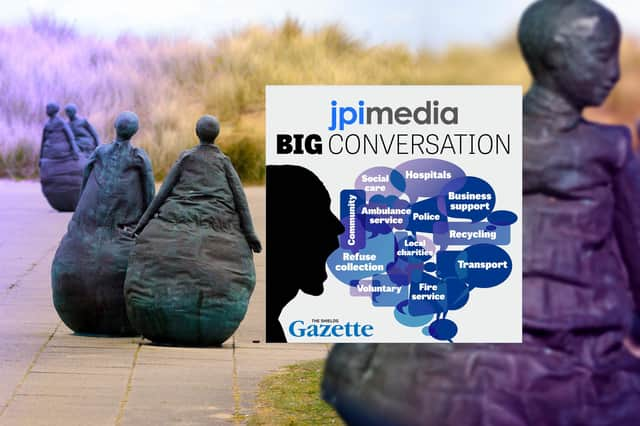 Gazette readers have revealed how life has changed during the COVID-19 pandemic in our Big Conversation survey
Across the borough, people have moved to working from home en masse, and tougher new measures introduced in our region mean meeting up with over six people is now a crime enshrined in law, while face mask wearing is mandatory in much of the public sphere.
All these changes have altered many people's attitudes, priorities and lives, which is why we asked Gazette readers to tell us about what's changed for you in our Big Conversation survey.
Our online survey looked at a range of issues surrounding the pandemic, including changes to personal lives, travel habits, health, employment, local life and fears and hopes for the post-pandemic world.
We will be exploring all of the results in greater detail in the coming weeks but here we look at some of the key things you have said.
We asked readers if they felt their own mental health has been affected by the pandemic and the results were certainly revealing.
More than one in four of respondents (26.5%) said it had been 'strongly affected' while almost half (44.6%) said it had been 'slightly affected'.
By contrast, 15.4% said it had been 'not much affected' and 12.3% said it was 'not at all affected'.
When asked to rank as priorities the activities that are important to their own personal quality of life, either now or before the pandemic began, the vast majority of those who took part in the survey (78.5%) said it was 'visiting family'.
'Eating at cafes/ restaurants' also scored highly with 61.5% choosing that, with 'visiting beaches, parks and green spaces' highlighted by 62.3% of survey entrants.
When it came to the impact of COVID-19 on job security, almost a third (31.5%) said they were either 'concerned' or 'very concerned'. While 47% felt the same about how the virus could affect personal and household finances. Indeed, 56.5% of those who completed our survey said 'I have cut back on my spending'.
Perhaps encouragingly for small traders, 41.9% said 'I am supporting local businesses more'.
There was a noticeable response to our question 'since lockdown, are you visiting your local town or city centre more or less often than before?' 38.5% said they had visited 'a lot less' while 20.8% said they 'haven't visited it at all since lockdown'.
Perhaps linked to that was the fact 54.2% of respondents felt 'not at all comfortable' about taking public transport.
With many common activities moving online during the pandemic, as a result people have had to learn to use online services, such as online shopping and video calls. 50.4% of you said you had 'adapted very well' to this with a further 37.3% saying they had 'adapted fairly well'.
At the start of lockdown, we reported on many acts of kindness that took place in local neighbourhoods while every week saw the regular sight of people standing on their doorsteps to applaud our NHS staff for their efforts in fighting the virus.
Significantly though, when asked 'do you think the sense of community where you live has got stronger or weaker since lockdown?' almost half of you (49.6%) felt it was 'neither stronger nor weaker' with less than one in four (23.8%) describing it as 'stronger'.
When asked what 'changes to the 'old normal' emerge from the pandemic' you would like to see, there was a clear favourite.
42.7% said they wanted to see 'action to shift the the work/life balance in favour of family and leisure time' while 28.5% also wanted to see 'less emphasis on office and site-based working and greater flexibility to work from home'.
And finally, there was an overwhelming response to our question: 'how concerned are you personally about the impact of a potential second wave of coronavirus in the coming months?' with 59.6% saying they were 'very concerned'.