Campaign to kick drink driving out of Euro 2020 backed by North East football clubs
The region's biggest football clubs have joined a road safety campaign urging fans not to drink and drive during Euro 2020.
Wednesday, 9th June 2021, 6:21 pm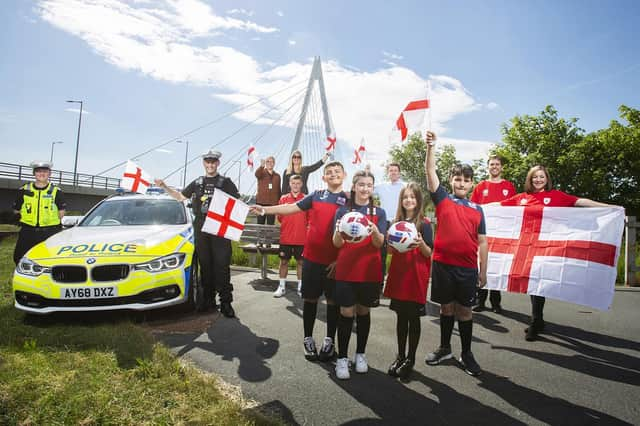 Northumbria Police Sgnt Steve Chappell and PC Greg Huntley, Sunderland City Council road safety members Karen Turnbull and Gemma Strong, Sunderland Foundation coach Jack Gray, Northern Saints Primary School pupils Frankie, Lily, Leia and Jayden, Coun Kevin Johnston and RSGB NE's Peter Slater and Cheryl Ford-Lyddon.
During major sporting tournaments, drink and drug driving increases – as does the number of people injured and even killed as a result of an impaired driver getting behind the wheel.
In Euro 2016, there was an increase in drink and drug driving injuries both the day of and the day after England's matches.
On those days, drink/drug drive injuries increased from 6% to 8% of all injuries – and those resulting in death or serious injury rose from 8% to 19%.
Northumbria Police Sgnt Steve Chappell and PC Greg Huntley and Northern Saints Primary School pupils Frankie, Lily, Leia and Jayden, from Sunderland.
And with the pandemic impacting people's ability to socialise during the past 15 months, the temptation to set up a party atmosphere and enjoy an alcoholic drink is likely to be high.
Between 2016 and 2020, there were 1,476 people injured in the North East in collisions involving a suspected impaired driver. While 343 of those people were seriously injured and 29 were killed.
Last year alone, eight people died on the region's roads in collisions involving drivers impaired by drink and drugs – the highest rate since 2014. This is despite traffic levels during the various lockdowns and the pandemic being much lower than usual.
Peter Slater, from Road Safety GB NE, which is made up of local authority road safety teams from across the region, supported by the emergency services, said: "It's been a long time coming and we don't want to spoil the fun, but we're asking people to be sensible. If you know you're going to be drinking, plan your transport home beforehand, or be the designated driver. If you're driving, stick to soft drinks. Ask yourself, could you live with it if you hurt or killed someone?"
Superintendent Sam Rennison, of Northumbria Police, said officers would be taking robust action against anyone driving impaired this summer.
"Our message to fans is a simple one – don't get behind the wheel of a car when you've been drinking or using drugs," she said.
"Your reaction time slows down and it's more difficult to focus on the road and drive in a safe manner. Road traffic collisions tear families apart and it's crucial that people are aware of the potential consequences of driving over the limit prior to getting behind the wheel."
Sunderland AFC Manager Lee Johnson added: "We're all looking forward to Euro 2020 and like all football supporters, I'm hoping that England give us plenty to cheer about.
"If you're having a few drinks while watching the games, please remember to leave the car at home, and think about whether you're still over the limit the following day."
Young people are most at risk of being involved in drink/drug driving collisions, with 17 to 34-year-olds accounting for 52% of suspected drink drivers and 53% of casualties.
A Newcastle United FC spokesperson said: "For anyone heading out to watch the Euros and planning to have a drink, we join them in urging you to leave your car at home. Stay safe, keep others safe and help to make it a memorable tournament for all the right reasons."
The dramatic events of the pandemic are having a major impact on many of our local valued advertisers and consequently the advertising that we receive. We are now more reliant than ever on your support through buying our newspaper. If you can, please pick up a copy of the Northumberland Gazette when you are at the shops. Thank you.