Hebburn Helps hero helps raise almost £2,000 on 'crusade for the brigade' to support lifesavers at South Shields Volunteer Life Brigade
A food bank hero has raised nearly £2,000 to support others in their life-saving work by taking on a marathon-length 'crusade for the brigade' challenge.
Monday, 26th April 2021, 5:58 pm
She set off from South Shields, joined by 11 other spirited walkers, just after 6am on Saturday, April 24, and headed for Seaham in County Durham, before returning to South Shields at around 6pm.
As of Monday, April 26, they had already raised more than £1,800 for the emergency rescue organisation – almost double their initial target of £1,000 – and is now recovering from the grueling trek.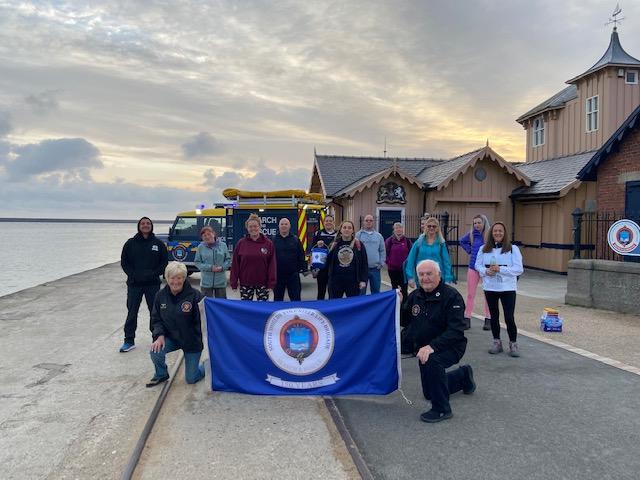 The co-founder of the Hebburn Helps food bank has helped raise almost £2,000 by completing a 'Crusade for the Brigade' marathon-length walking route along the coast
"Yesterday, I couldn't manouevre too much – I was broken after Saturday but still smiling," she said.
"It was 11 hours or so of solid walking. We were left with blisters, but we laughed all the way through.
"Tom Featherly and his wife, Oonagh, waved us off with a couple of guys from the brigade. They also stopped at a few of the different pit stops along the way to check if we were okay, and met us at Seaham with our dinner, giving one or two knackered walkers a lift back.
"And then it was just for the rest of us to make our way back – like a bunch of wounded soldiers."
The walkers, including Angie Comerford from Hebburn Helps, took on the 26-mile-long walking route to raise funds for the South Shields Volunteer Life Brigade.
Ms Comerford took a detour to visit the Seaham Tommy war memorial, effectively adding an extra six miles to their overall journey.
She thanked all those who have donated to the cause.
"I felt a bit bad dragging everyone a few miles further just to see the statue," she added.
"But it was amazing – a really good experience."
The dozen fundraising walkers stopping by the Seaham Tommy war memorial.
Tom Fennelly, honorary secretary of South Shields Volunteer Life Brigade, thanked Angie on behalf of the team.
"Everyone was greatly impressed when Angie contacted us to say that she wanted to raise money for the brigade with this marathon walk," he said.
"It is even more remarkable that friends and supporters of another local charity should want to raise funds for another local charity."
He added: "The work of the Brigade has gone on throughout the pandemic, often operating and training in very testing conditions.
"All our normal fundraising activities have been severely curtailed and it is truly humbling that Angie and her friends at Hebburn Helps are tackling this challenge to raise funds for us."
Enjoy unlimited access to local news, the latest football stories and new puzzles every day.
With a digital subscription, you can see fewer ads, enjoy faster load times, and get access to exclusive newsletters and content.Click here to subscribe.