Sonic Boom caused by RAF jets escorting a plane to Stansted after losing contact with pilot
The RAF has confirmed the cause of the sonic boom heard across central England yesterday
The RAF has confirmed the reason for the sonic boom heard, and felt, across central England yesterday (March 4). People in the area said the massive sound shook the ground and rocked houses.
The air force's Typhoon aircraft have been revealed as the cause of the auditory phenomenon, after they were sent to investigate a flight where communication had been lost with the pilot. The jets escorted the plane to Stansted Airport where the incident could be investigated.
A spokesperson for the RAF said: "A flight has been diverted to Stansted airport after communications with the pilot had been lost. The plane was escorted to the airport by RAF jets and landed shortly before 12.50pm [on Saturday]. Officers are engaging with the pilot and inquiries are ongoing."
Essex Police said, following investigation, they were satisfied the loss of communications with the flight heading from Iceland to Nairobi via Southend, was due to "a loss of contact due to an equipment malfunction and nothing of concern".
The boom, which sounds like a thunder clap or explosion, is reported to have been heard as far south as Oxford and up to 70 miles further north in Leicester. A spokesperson for London Southend Airport said: "A dash 8 registration N362PH has caused quite a stir today following a radio fail en route to London Southend Airport.
"The flight instead flew over Heathrow, City and Stansted; RAF Typhoons were scrambled to make contact and have now escorted the N362PH to London Stansted. According to reports, the 'sonic boom' of the Typhoon was heard as far afield as Leicester."
What is a Sonic Boom?
A sonic boom occurs when an object travels through the air faster than the speed of sound. In order to create a sonic boom, an object must be travelling at around 750mph, which is 200 mph faster than most commercial airlines.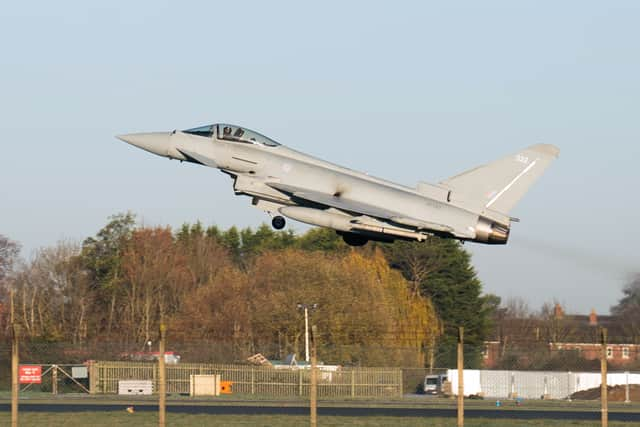 In the wake of the sonic boom, a spokesperson for Leicestershire Police said: "We have received numerous calls in relation to a large explosion sound heard from various parts of the city and county. We like to reassure you that there is no concern however thank you for your immediate response to us."