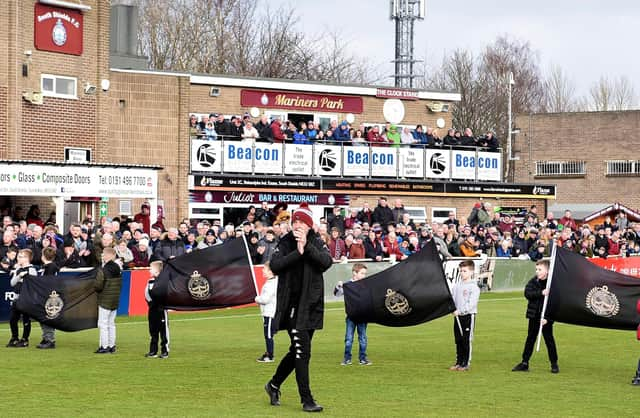 South Shields FC have agreed a new partnership
The deal is the first of its type in the club's history and will see the stadium renamed with immediate effect – in a deal which could last up to three years.
North East-based 1st Cloud's brand has developed quickly over recent years, providing innovative accountancy and technology solutions for small to medium-sized businesses in the region and throughout the UK.
The company opened a South Shields accountancy branch six years ago which has gone from strength to strength and is now a firmly recognisable name in the town. Other 1st Cloud branches and offices are also established in the region.
The partnership represents a significant boost for the Mariners, who will once again be targeting promotion to the National League North this season.
The club's business development Manager Colin Docherty said: "1st Cloud are one of a number of loyal sponsors whose backing over recent years has been so crucial to the club's progression on and off the pitch.
"We have now strengthened that relationship with this naming rights deal, which is the first of its kind in the club's history.
"It is an agreement we are certain will provide major benefits to all parties, particularly in the Covid-19 affected world we live in, with so many businesses having seen their revenue streams severely impacted.
"For 1st Cloud to agree this deal at this time further underlines their huge commitment to the club and our vision to take it forward, and we're hugely grateful for their support.
"Everyone at South Shields FC recognises the emotion attached to the name of football grounds and that some supporters may feel torn over this change, but we hope they will understand why it is so important to us and will embrace 1st Cloud for the invaluable support they continue to give us.
"Our goal is to deliver success for our supporters and everyone connected with the club, and commercial deals such as this one will give us the best possible opportunity of doing that as we aim to grow sustainably."
1st Cloud Accountancy and Technology Solutions managing director and founder Steven Tuckwell said: "It is with great pride that we partner South Shields Football Club, as we look to strengthen our professional relationship on this exciting journey over the next three years.
"The football club is very much a key part of the North East region and has strong community ties with the town of South Shields.
"It is this community spirit and togetherness that has allowed 1st Cloud to develop in the town, makes this investment in the club so attractive and makes the match day experience so enjoyable for all supporters.
"As our businesses continue to grow in these uncertain times, our collective ambitions both on and off the pitch are key to our long-term success."