'Come to the conclusion' - Ex-ref delivers verdict on controversial Newcastle United incidents during Arsenal clash
Two controversial incidents were the talking points of a feisty encounter between Newcastle United and Arsenal at the Emirates Stadium.
Published 5th Jan 2023, 13:16 BST

- 3 min read
Updated 5th Jan 2023, 13:55 BST
Speaking on Sky Sports Ref Watch, former Premier League referee Dermot Gallagher believes Burn was 'lucky' to avoid giving away a penalty, but can see why VAR didn't overturn referee Andy Madley's initial decision: "I think Dan Burn has taken a massive risk here," Gallagher said. "I understand why the referee doesn't see it because he's blocked off, but he's had a real grab at the shirt.
"The trouble is when it goes to the VAR, the VAR isn't going to say has the referee got it right or wrong? The VAR is going to say has the referee made a clear and obvious error?
"A few weeks ago, Howard Webb came in and said they want the referees to make the decisions on the field and VAR to be used for a clear and obvious error. If you drill down into it forensically, you'll come to the conclusion it is a penalty.
"But if you look at it like the VAR where they had the time to see it, I'd say it's 50/50 so they will err on the side of the referee. That's why it wasn't given.
"Dan Burn has taken a massive risk but I think he has won the battle there. When you look at it on a replay, it's easier to justify it's a penalty. However, how they want VAR to operate now, I understand why it wasn't given."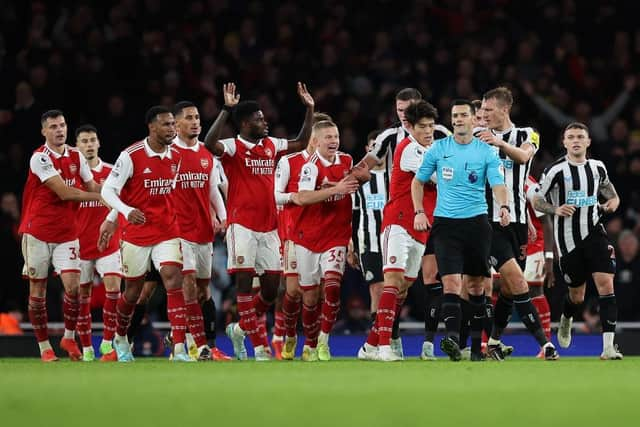 Whilst Gallagher feels Newcastle may have been 'lucky' this incident wasn't given as a penalty, he is certain the referee and technology made the correct call with the game's other main talking point. In the final stages, Granit Xhaka's cross hit Murphy on the arm and despite huge protestations from the Gunners, Madley and VAR decided it wasn't a penalty - something Gallagher agrees wholeheartedly with.
"Definitely. I don't think anybody would expect a penalty here.
"It gets smashed in and look how close he is. There's one or two yards between them.
"It strikes his arm, although his arms are low and he is trying to get his arm out of the way. Is his arm in a position you would expect when defending that ball? I would say yes.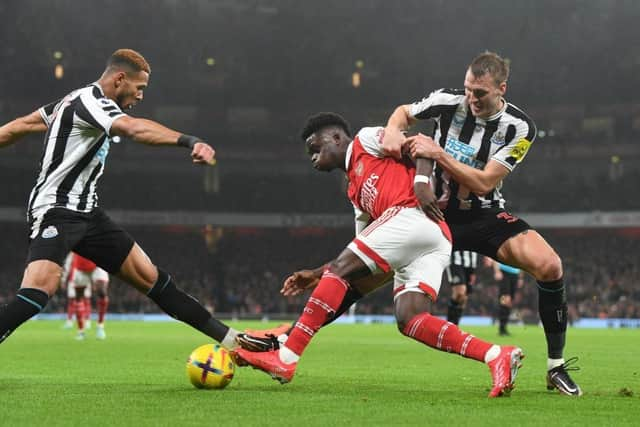 "I think if that was given against Arsenal, Arteta would have been equally as incensed."
"I don't think he lost control, I think what happened was there were a few cards early on and when you have cards early on, you set yourself a bar you've got to follow. And I think that he set his tolerance level a little bit too high and by doing that, to be consistent, you've got to keep going."