Eddie Howe names Newcastle United player who took the game to Liverpool
Allan Saint-Maximin's making a timely return to form at Newcastle United.
Howe started the winger on the left, and then moved him into a more central role. United's head coach was pleased with how Saint-Maximin combined with striker Alexander Isak at St James's Park.
"I thought Maxi started the game really well on the left, and gave them problems," said Howe. "He gave them transitional problems, and then when he moved centrally, into a different role, his influence on the game was still there.
"He formed a really good partnership with Alex – I thought they looked really good together with their dribbling ability and their pace.
"We were a constant threat in the game, and I was really pleased with the team and how they responded. It was only really in the latter stages of the game, as we tired, that Liverpool created some chances."
Newcastle's positive start quickly unravelled, and in the space of 12 minutes, Howe's team conceded two goals and had goalkeeper Nick Pope sent off.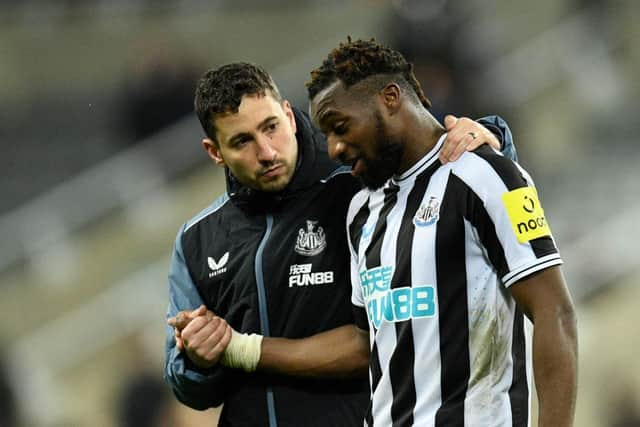 "Liverpool have that pace and quality," said Howe. "They have the quality to find the runs.
"We would back ourselves on another day to have defended those situations a lot better. We didn't, and we paid the price for that. We'll review that and analyse it.
"Teams with the quality of Liverpool have the ability to unpick you with one moment. Our challenge is to keep our concentration and prevent that, and we didn't do that well enough."
United had chances, but Liverpool goalkeeper Alisson made a series of important saves, including an early stop to deny Miguel Almiron when the game was still goalless.
"I've had spells like this in my managerial career where you create chances, and the goals don't come," said Howe. "But I back the players to come out of it, we've got too much quality not to."
Newcastle's next game is the Carabao Cup final against Manchester United at Wembley on February 26.