Eddie Howe on his biggest Newcastle United game yet – and what fans can do to help him
Eddie Howe's labelled Newcastle United's Carabao Cup semi-final second leg as a "season-defining" game.
The club, which was in the relegation zone this time last year, is also third in the Premier League following a remarkable few months on the field.
Speaking ahead of tomorrow night's sold-out return leg, United's head coach said: "I don't think it will make or break our season, because we have another game after this – and huge games ahead.
"But, saying that, we know how important it is for us to try and keep positivity, forward momentum and excitement, so we would love to progress. So it's going to be potentially a season-defining game, although we aren't trying to focus on it that way.
"We're trying to focus on a match where we want to excel and do our best in – and that method has served us so well up to this point."
Asked if he had imagined cup success so soon, Howe added: "You always hope and dream that you can get into these positions, but we haven't achieved anything yet.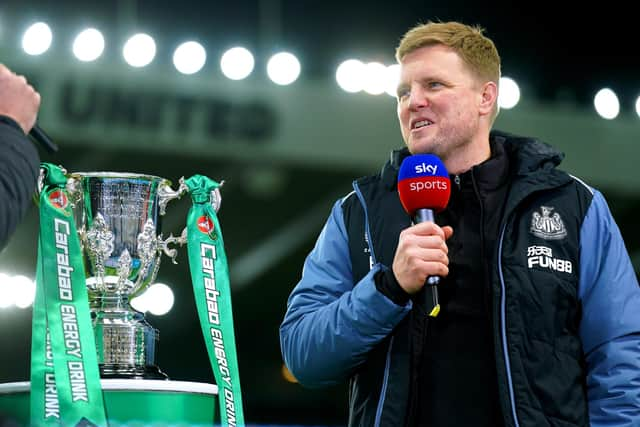 "We're a game away from a final, which would be an amazing moment for us, but we haven't achieved it yet, and we've got a lot of work to do to get there, so it's about staying in the moment, not getting ahead of ourselves.
"Certainly, this cup experience has been better than the FA Cup experience we've had, but hopefully we can put that right another time."
Stunning 'spectacle'
Supporters are again being asked to bring their scarves to the game by Wor Flags following the spectacle before the quarter-final victory over Leicester City at St James's Park.
"I'm happy for flags, scarves," said Howe. "The spectacle St James's Park brings pre-game is a thing of beauty for me when I step out on to the touchline.
"It always inspires me, and I know the players feel the same way. Hopefully, it can be that sort of atmosphere again."
Newcastle lead the tie thanks to a goal from Joelinton at the St Mary's Stadium, but Howe isn't focusing on that advantage in his planning.
"You have to look at it as an independent game," said Howe. "Yes, we have a 1-0 lead but if you focus on that too much before the game, or that becomes part of your psychology, then you're in trouble.
"You go into protection mode and we don't want that. We want to express ourselves in the game, and we have to look at it as a league game."
New 'lease of life'
Meanwhile, Howe would oppose changes to the format of the Carabao Cup, a competition the club has never won.
"I would be against changes," said Howe. "I think it's had a new lease of life in recent years. Because it's played early, and you're still forming your team, your rhythm and how you're going to play through the season, I think it's taken on more importance in recent years.
"I enjoy the format, I enjoy the two-legged semi-finals. The two-legged semi-finals are something different, and there's uniqueness to the cup that has served it well over the years."